Onsei Henkan


(Japanese: 音声変換 -Onsei Henkan )

can also be called Lil' Onsy

NAME INTERPRETATION:
音声 -Onsei =Voice
変換 - Henkan =Transformer
TYPE: Body Changer 

MODEL: 05-Got theThird gen (baby face)

GENDER
Male
VOICE RANGE
UNKNOWN
RELATED CHARACTERS
Harmonious N
AGE
15
GENRE
UNKNOWN
HOMEPAGE

Unavailable

WEIGHT
45 kg
CHARACTER ITEM
Electronic Pen
CREATOR
HEIGHT / MEASUREMENTS
145 cm
VOICE SOURCE
UNKNOWN
PICTURE LINK LIST
Custom,not available yet
BIRTHDAY
October 10,1999
LIKES
Snake,Games

,Lemon Ice Tea

MEDIA LIST
UNKNOWN
RELEASE DATE
16 April 2014
DISLIKES
Greedy people,Turtle

,Zebra

SIGNATURE SONGS
UNKNOWN
PERSONALITY:Likes to train his voice.Have a many form,likes to annoy people.Playing jokes, not bullying anyone.
Supplemental Information
Hair color: Dark blue
Eye color: Slightly Dark Green
Headphones: None
Dress/Outfit: Purple
Nationality/Race: Malaysian / Body & Voice Copy master
Type: Malbot (Half Mammal Half Robot) / Human / furry (ManBeast)
Pet: Lolzy (Dragon)
More Picture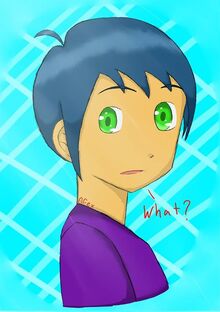 This one is in human form >>>
This one is his pet named Lolzy and he is Dragon >>>
Favorite Line
より多くのあなたが私を知って、より多くのあなたが混乱させます (The more you know me,The more you confuse)
Yori ōku no anata ga watashi o shitte, yori ōku no anata ga konran sa semasu
Voice Bank
Still in Progress
Ad blocker interference detected!
Wikia is a free-to-use site that makes money from advertising. We have a modified experience for viewers using ad blockers

Wikia is not accessible if you've made further modifications. Remove the custom ad blocker rule(s) and the page will load as expected.