MASHIN ONSEI


(Japanese: 音声 マシン - おんせいましん)

NAME INTERPRETATION:
音声 (Onsei; Voice)
マシン (Mashin; Machine)
(May also be referred to as "Alder Blackwell")

Alder- [Of German origin]- In reference to the "alder" species of tree

Blackwell- [Of Old-English origin] "Dark stream"

TYPE: NONE
MODEL: NONE
GENDER
Male
VOICE RANGE

C2 - C5 (ACT1)

D2 - E5 (ACT2)

RELATED CHARACTERS

Weston Harlow(Husband)

Konshin Otonami (Acquaintance)

Camui Gackpo (Parodical stalker)

Oshiro Saki (Friend)

Lyra Winter (Acquaintance)

Akahana Etto (Friend)

Meine Rikka (Friend)

Cerise Honeydew (Friend)

Chatter (Acquaintance)

Isa Ameyumi (Friend)

Mashinbeta (Sibling model)

AGE
166

(Modelled to appear in his early twenties)

GENRE
Swing, jazz, ballads, electroswing
HOMEPAGE
Homepage
WEIGHT
210 lbs (95 kg)
CHARACTER ITEM
Saxophone
CREATOR
Machine
HEIGHT
5'9" (175 cm)
VOICE SOURCE
Machine
PICTURE LINK LIST
deviantART
BIRTHDAY
May 5, 1847
LIKES
Fish, dancing, being read to, tea, coffee
MEDIA LIST
 YouTube
RELEASE DATE
December 23, 2013
DISLIKES
Radishes, saline, snoring,  sentences that rhyme, magnets
SIGNATURE SONG
NONE
PERSONALITY: Mashin is known for his reserved nature, preferring to listen rather than speak out. He enjoys a more quiet and quaint lifestyle as opposed to an exciting one- although he does enjoy the spontaneous every so often. While he appears to be very serious and polite, rumor has it that he'll appear vacant-minded and replicate noises of various animals or devices in the presence of select individuals. He is noted for his "ladylike" personality.
Supplemental Information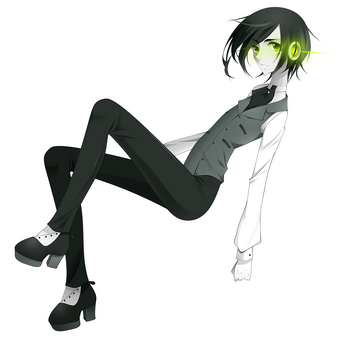 Hair color: Black
Headgear: [N/A]
Eye color: Green
Earphones: Rather than ears, Mashin's head is fitted with round audio receptors, which, like his eyes, glow green.
Dress/Outfit: As seen in his official art, Mashin is typically seen wearing a Victorian suit; A white dress shirt, pewter vest, black trousers, black shoes beneath white spats, and a black puff tie held in place by a white tie pin. While his outfits alter, the formal/antique clothing style and monochrome color scheme usually remain.
Others: The metal used to create Mashin's body is slightly pliable, allowing it to have a somewhat more fleshlike texture and consistency.
Nationality/Race: American/Android

Personal Quotes
"But if it doesn't have fins or swim, is it a fish?"

"Yeston? I mean, yes, Weston?"
Trivia
Mashin is able to play the saxophone and piano, however, he favors the saxophone.
One of his hobbies is swing dance.

Mashin lived in Roseville, IL, United States.

He's fascinated by fish, and owns a worn out fish-shaped pillow which he can often be seen with.

He is a slow reader, and so prefers being read to.

Mashin is a bit self conscious, and easily embarrassed.

He claims that he would be more likely to date a man in his thirties or forties than he would a man in his late teens or twenties.
He's said that he would much rather prefer to date a shy woman than a socially energetic woman.
He is somewhat nervous around people who are far taller than him.
Mashin has been known to faint or become dizzy at the sight of blood or harsh injuries.
His actual name, Alder, was given to him by his in-story creator, named for his deceased brother.
His favourite food is cucumber sandwiches.
Jazz and swing are his favourite musical genres.
He claims to get along best with the elderly.
Notable Covers
[UNDER CONSTRUCTION]
Voice Configuration
ACT1 [CV] - [RETIRED]
Voice Description: Crisp, mellow, slightly robotic. Tenor.
Recommended Resampler: tn_fnds, bkh01
Recommended Flags: BRE0C10H10P90Y0
Pros- Is crisp and consistent, preferable for both slow and upbeat songs, and has a relatively unique tonal quality.
Cons- His intentional but slightly distorted tone may not appeal to some, and his "de" and "di" syllables have some minor and unfixable frq mapping errors. His accent is notably (but not excessively) and intentionally American sounding to suit his character. Some users may not prefer this sort of sound.


ACT2 [CV] - A beta version of this bank is available for trial usage. Uploads of covers using this bank are permitted, so long as information is provided specifying that the beta version of the bank was used. DOWNLOAD ACT2β
Voice Description: Light, gentle, tenor, slightly rhaspy.
Recommended Resampler: fresamp
Recommended Flags: BRE0C10H10P90Y0g+3
Pros- Smooth and even-toned, this bank does well with soft and slow songs, but can also handle well with quicker tempos.
Cons- He sounds somewhat metallic or rhaspy on particular syllables, and his "to" sample requires rerecording.
Other
Vociferation
Vociferation is an independent horror game using RPGMaker VX Ace as its engine, and featuring Mashin as its protagonist. The game features a number of UTAU and Vocaloid mascots in its cast. Its progress is currently postponed, but is to resume production after the completion of Spiralbound, another game by Machine.
Usage Clause and Guidelines
[As of 9.22.2014]
Feel free to use him for whatever you'd like, so long as it is not disrespectful toward persons of any race, gender, sexual orientation, religion, disability, or political standing.
If considering using him for profitable purposes, please consult the creator.
Do not release/use his voicebanks under the name of another UTAU, or alter/edit the original files of his voicebanks in order to create a new voicebank.
Pair/"ship" him with whoever you'd like to; what you do with him and/or is his character image is entirely up to you.
Redistribution is allowed, so long as all of the original files (including the bank art, readme, and character files) are included.
Please do not claim him as your own.
Any fanart, covers, or depictions of him do not necessarily have to link back to the creator or the UTAU Wiki page, however, the creator does appreciate being notified so that he can appreciate your work!
Obscene expression such as excessive bloodshed/gore or sexual situations with him is permitted. However, please be sensible if posting an obscene work to a public website that may be accessible by minors.
Editing the oto.ini is allowed, if you feel it necessary. (If there is an error in the oto.ini that produces undesirable effects such as consonant looping, please contact the creator so that the issue may be resolved.)
In visual depictions of him, feel free to alter his design as you see fit.
If you have any other questions, comments, or suggestions, please contact the creator. Addresses at which you may contact the creator are included in the bank's readme file.
This article is written and certified true and correct by the author of the character. The details seen here may be subject to change without prior notice.
Ad blocker interference detected!
Wikia is a free-to-use site that makes money from advertising. We have a modified experience for viewers using ad blockers

Wikia is not accessible if you've made further modifications. Remove the custom ad blocker rule(s) and the page will load as expected.