Ookami Yoru

| | |
| --- | --- |
| Name: Ookami Yoru | :) |
| Birthday: Febuary 6 2013 | :) |
| Songs: Smiling Face, Sakura Sakura, Puppet Strings and Star Dancer. | :) |
| Weight: (UN KNOWN) | :) |
| Age: 14 | :) |
| Number: NA | :) |
| Food: Cherry | :) |
| Desc: She has one blind eye and can get vary hot headed. She loves to sing and do karate. | :) |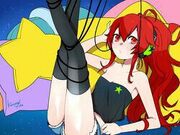 Ookami's voice bank was made on Vocaloid 3 so technically she isn't a Utau. She sings lower than her older sister Sirica and her best friend Natsu and Ika ( Ika is a boy)
Ookami Yoru
She is HOT headed and can be vary mean at times.
When she dislikes someone or when she is asked an odd question she responds  with a powerful kick to the face.
Extra
Please promote Ookami and I will premote your Utau!
I made my own template for this I hope you like it!
I will post her voice bank in July! Enjoy!
Ad blocker interference detected!
Wikia is a free-to-use site that makes money from advertising. We have a modified experience for viewers using ad blockers

Wikia is not accessible if you've made further modifications. Remove the custom ad blocker rule(s) and the page will load as expected.