Oosaka Yuuya


Japanese: 小坂悠夜

NAME INTERPRETATION:
小坂悠夜 (Osaka Yuuya)

TYPE: UTAULOID

MODEL: NONE

GENDER
Male
VOICE RANGE
B2~F4
RELATED CHARACTERS

Ko the Starchild (fellow UTAU owned by The Ark)

Owen (fellow UTAU owned by The Ark)

AGE
24
GENRE
Ballads, pop
HOMEPAGE
The Ark
WEIGHT
132 lbs (60kg)
CHARACTER ITEM
Cool-looking sunglasses
CREATOR
SabrinaSelene
HEIGHT
5'9" feet (176 cm)
VOICE SOURCE
SabrinaSelene
PICTURE LINK LIST
PHOTOBUCKET 1
BIRTHDAY
July 30
LIKES
Flying air bisons, colour black, anything cool, Poker
MEDIA LIST
YOUTUBE, NICONICO
RELEASE DATE
July 20, 2014
DISLIKES
Seafood, cooking
SIGNATURE SONG
PERSONALITY: Yuuya lives by the phrase "I'm too cool to ~insert verb here~" and prefers to live his life free from any responsibilities. He is loud at times, and cracks a lot of awful jokes, and never seems take anything seriously. Generally, he creates a sort of "YOLO" atmosphere around him. As a very laidback character, he sometimes might irritate others with his can't-be-bothered attitude but generally people find him eccentric and fun to hang out with.
Supplemental Information
Appearance: Yuuya has a fair skin complexion and is a bit taller than the average adult male.
Hair color: Light brown (yellow ochre)
Eye color: Unknown.
Dress: Wears a black top with the right side sleeveless. The edges are multi-coloured. Yuuya has on light grey pants and black shoes. He also wears black sunglasses (that usually reflects a spectrum of colours) that he never takes off.
Nationality/Ethnicity: Japanese
Additional Information: Yuuya's background information is unknown. However, he is often seen hanging out in a specific bar and living the nightlife of Tokyo.
Voice Configuration
The voicebank's name is given by Ark member - Maru-chan. (His name was originally known as Okosawa Roko) His voicebank is a CV with no appends/extends at the moment. The official owner of the voicebank is The Ark, a singing group made out of currently 3 UTAU and several members. The Ark, has not allowed his voicebank to be released for downloads.
Osaka Yuuya is encoded in both hiragana and romagi.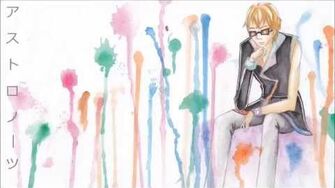 Ad blocker interference detected!
Wikia is a free-to-use site that makes money from advertising. We have a modified experience for viewers using ad blockers

Wikia is not accessible if you've made further modifications. Remove the custom ad blocker rule(s) and the page will load as expected.