Ad blocker interference detected!
Wikia is a free-to-use site that makes money from advertising. We have a modified experience for viewers using ad blockers

Wikia is not accessible if you've made further modifications. Remove the custom ad blocker rule(s) and the page will load as expected.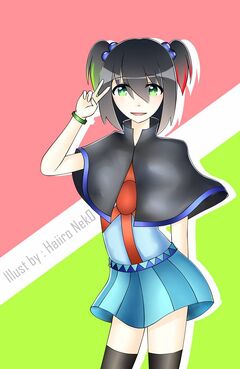 Information
Name: P.W.RAMI / ไทย: พีดับบิว(ดับเบิลยู) รามิ
Type: UTAUloid
Genre: -
Voice Range: Same to H.U.GEAS
Weight: 48 kg
Height: 160 cm
Age: 14
Gender: Female
Nationality: Thai-Japanese
Birthday: 10 October
Release Date: 23 July 2015
Related Characters: H.U.GEAS (Twins) , Kasuren Neonne (Friend) , Jushine Tomato (Friend) ,Kasuren Neonlight (Friend)
Character Item: Stun gun
Voicer: DarK_PuppeT
Media , Home page: Sound Cloud , Youtube
Likes: Magical Equipment
Dislikes: Cockroach D:"
***Note: She's genderblended to H.U.GEAS
Personality
She's another one of "Humanoid Utau (H.U.)" series but she is different from H.U.GEAS , so if GEAS is a witch-hunter then she is a witch and RAMI is a "Psuedonym-Witch (P.W.)" series however they both are lovely brethren. :)
Voicebanks
[25/11/2015] P.W.RAMI CV (V1): Click!
You can setting it! vvvv