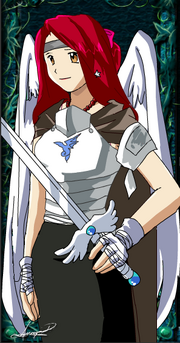 Paul donald is a 11 year old girl who goes out with Chester.Paul is a active girl who loves sleeping.
Donald Paul
["px]
Paul

Age

11

Number

22

Items

Cheese puffs and frying pan

Likes

Cheesepuffs

Dislikes

Leek and skirts.

Gender

Female

Upper body

Red hair,tan skin,brown eyes,black sleeveless shirt, and red tie.

Lower body

Black shorts,red belt,and black boots

Relative people

Chester boyfriend,Eric twin,Camron Brother,D.C.T best friend.
Did you know that the act of sex between rattlesnakes can last up to 20 hours?
I am not a very happy man.
Ad blocker interference detected!
Wikia is a free-to-use site that makes money from advertising. We have a modified experience for viewers using ad blockers

Wikia is not accessible if you've made further modifications. Remove the custom ad blocker rule(s) and the page will load as expected.