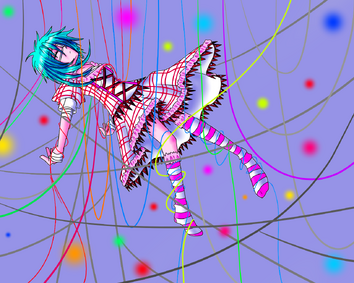 PepperMint  
ペパーミント
Preview
https://soundcloud.com/ginger_hill/peppermint-preview
| | | | | | |
| --- | --- | --- | --- | --- | --- |
| Gender | Female | Voice Frequent Average | None | 'People 'Associated | Megurine Luka- Idol |
| Age | 14-15 | Genre | Varies | Home Page | None as of now |
| Height | 5'2 | Character Items | Candy cane, a pair of pink scissors | Creator/VoiceSource | |
| Birthday | Unknown | Likes | Sitting under a kotatsu, making any kind of paper art, such as cutting out paper flowers, origami, and carefully poking out cut out animals, and listening to various songs from all the Vocaloids and Utaus. | Picture List | Here |
| Release info | None | Dislikes | Blood, paper cuts, malfuctions, her voice, and cake. | Media List | None |
| Number | U-PM | Sexuality | Straight | | |
Background Info: PepperMint was once a full Utau with a complete voice bank. But due to remodeling and viruses, her voice bank was corrupted and vocal chords destroyed, which lend to her uninstallment and reboot… Because of this she talks in the third person and her voice is broken up and sounds monochromatic. 
Personality: PepperMint is shy and doesn't talk much. She does like being around others and is often seen talking to Dell a lot. She has little confidence in herself, so she's soft spoken and sometimes puts herself down. She loves any kind of paper art, cutting paper flowers being her favorite. Once you get to know her, PepperMint is a curious girl who will always ask questions or permission to do something. So try talking to her, you might be surprised at the things she says and does.
Basic Information
Hair color/design: PepperMint's hair is a mint green color that looks layered and is chopped up very unevenly. 
Character Sheet: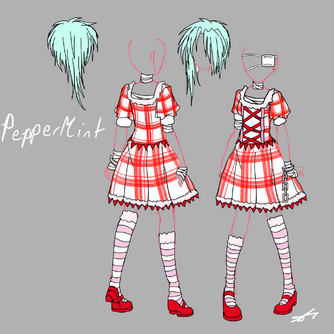 Eye Color: 

PepperMint's eye borders on red to a very dark pink. The only thing that sticks it as different is the line that runs right down the middle
Nationality/Race: N/A
Shoes: PepperMint wears a simple pair of red Mary-Jane shoes.
Outfit: Unlike most Utau, PepperMint's outfit is not based off of arm warmers or belts. Her dress is more lolita based and sticks out in a crowd. (aside from the mech looking Vocaloid/Utau) The bandages are used to hide visible cords and the broken handcuff is something she found and thought was cute.
Often Used Phrases:
"PepperMint wants to eat a candy cane...."
"Can PepperMint touch your hair...?"
"....."
"PepperMint....is sleepy...."
Character Quote:
"To be accepted is to be loved not pitied..."
Ad blocker interference detected!
Wikia is a free-to-use site that makes money from advertising. We have a modified experience for viewers using ad blockers

Wikia is not accessible if you've made further modifications. Remove the custom ad blocker rule(s) and the page will load as expected.