Amaiko Pia       

NAME INTERPRETATION:
Pia
Amaiko (amai and koe )
TYPE: UTAUloid
MODEL: NONE
GENDER
Female
VOICE RANGE
Unknown
RELATED CHARACTERS

Kaminari Yuudai (boyfriend)

Henkone Keo (best friend)

MARiKO (kind of younger sister)

Henkone Tama (kind of brother)

Amaiko Clear (older brother)

CiAN (cousin)

Sasayaku Maxy(friend)

Finnian (friend)

AGE
15
GENRE
Any
HOMEPAGE

none

WEIGHT
51 kg
CHARACTER ITEM
none
CREATOR
x3Say0x3
HEIGHT / MEASUREMENTS
161 cm
VOICE SOURCE
x3Say0x3
PICTURE LINK LIST
DeviantArt
BIRTHDAY
April 8
LIKES
her family, Yuudai laughing, iced coffee, pandas
MEDIA LIST
YouTube
RELEASE DATE
April 29, 2011
DISLIKES
sad atmosphere, insects
SIGNATURE SONG
Only my Railgun

PERSONALITY: Pia loves to laugh and so she likes to make others laugh, she thinks always positive and has a pretty outgoing personality. Most of her time she spends with Yuudai or Keo. She's really bad at cooking, she tries her best to learn it someday though.
Supplemental Information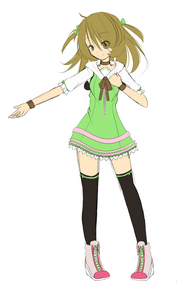 Hair color: Lightbrown-darkblond
Eye color: Brown-grey

Outfit: light green dress with pink accents and zipper, white dress underneath with panda hood and brown bow, black stockings with green bow, pink-green wedge high heels
Nationality/Race: German/Human

Voice Configuration
Her older voicebanks are curently not downloadable, since a new voicebank is planed and will be released soon
Usage Clause
Do not redistribute.
Do not claim ownership of this character and her voicebank. (So please credit!)
Do not create songs in any way that include any slander, racism, or anything that insultes the rights of a person or group of people.
Do not change any appearances that already be given out unless there are changes that have been made by the creator.
Do not use any of the voice samples for other uses than letting her sing with UTAU!
Her voicebank is not for commercial use.
The contents of this page is subject to change without prior notice.
Ad blocker interference detected!
Wikia is a free-to-use site that makes money from advertising. We have a modified experience for viewers using ad blockers

Wikia is not accessible if you've made further modifications. Remove the custom ad blocker rule(s) and the page will load as expected.