Platina/Silver Karune


(Japanese: 軽音プラチナ

・

シルバー - かるねぷらちな・しるばー - Karune Platina/Silver)

NAME INTERPRETATION:
軽音 (Karune; literally means "Sound of the Light".)
プラチナ

・

シルバー (Platina; Derivated of the spanish word for "Platinum", Platino. Silver; From the Precious Metal Silver. Both written in Katakana.)
TYPE: Twin UTAUloids
MODEL: 13-01 (Silver) / 13-02 (Platina)
GENDER
Female & Male
VOICE RANGE
C3~A#4/B2~G4
RELATED CHARACTERS

 Kenji Mamoru: Platina's Husband, singing partner and love. Best Friend of Silver & Brother in Law.

Hisashi D. Bezarius: Silver's Official Girlfriend. Platina's Friend.

Cross Bezarius: Silver & Platina's Nearest Friend.

AGE
22/22
GENRE
UNKNOWN
HOMEPAGE
WEIGHT
58 kg/68 kg
CHARACTER ITEM

Platina - Chocolate Star

Silver - Silver Metal Star

CREATOR
MeltAisu

HEIGHT / MEASUREMENTS
167 cm/177 cm
VOICE SOURCE
MeltAisu
PICTURE LINK LIST
CONCEPT ARTDEVIANTART
BIRTHDAY
February 13th
LIKES

Chocolate/Vanilla, Pocky Sticks.

MEDIA LIST
YOUTUBE
RELEASE DATE
September 11, 2012/November 17, 2012
DISLIKES
Lies, Mean peoples, seen hurt their friends/beloved.
SIGNATURE SONG

The Muzzle of Nemesis - 軽音プラチナ_Native(β)

PERSONALITY:

Platina has a shy, kind and goofy personality, usually very quiet, and blushes by all. Adopt a dominant personality when she eats a lot of chocolate, also she's a bit tsundere. Silver 

can be so sweet, fun, shy and a bit pervy, also very agressive when anyone mess with his sister Platina or his girlfriend Hisashi, sometimes he's dandere.
Character Design
Hair color:
 Silver/Cyan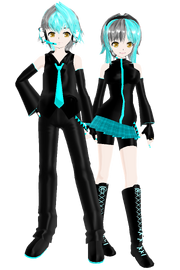 Eye color: Yellow Goldish
Headphones: Headphones with mic Cyan/Black color
Dress: Black & Cyan Attire, Platina has a Cyan skirt school uniform texturized, long black boots with cyan tapes, sport shirt same color schemes. Silver has sleeveless shirt black color with a cyan tie, black pants & boots both with a chain cyan & black, and black gloves, Platina has a wedding ring on her left hand (She's married with Kenji).
Nationality: Mexican
Orientation: Platina; Heterosexual. Silver; Heterosexual.
Catchphrase: Platina; To Kenji - "W-why are you smiling like that?". Silver; "So, did you say something lady~?".
Facts
Platina's:
KAITO was her first crush, but afterwards she met Kenji and fell in love with him.
Gets flustered when Kenji does his famous smirk.
She seems younger then her real age.
Loves bunnies and bears.
Is obsessed with any kind of chocolate desserts and candies, specially Pocky Sticks.
Hates that other girls talk to Kenji if they aren't Friends or Known. She's a bit jealous.
Her idols are GUMI and Hatsune Miku.
Silver's:
Likes to help Platina from embarrassing situatuons.
Is obsessed with Vanilla flavor.
He is on a official relationship with the Female UTAU, Hisashi D. Bezarius.
Likes dogs and tigers.
His idols are Len and KAITO.
He used to like Lily as his platonic love.
Voice Configuration
Platina and Silver have their voicebanks in Romaji encoded. Actually their creator, MeltAisu is working on 3 new voicebanks for each one of them: Platina (Native, Power & Whisper) & Silver (Normal, Strong & Soft).
The Download of these voicebanks is still on review. These are only redistributed for Creator's Closest friends for now.
Platina is currently on Pre-review to get in Public Download, showing off her Voicebank Extended Native(β) (Beta). As well her twin Silver, currently working on his new Voicebank Extended Normal.
Usage Clause
Please DO NOT use Platina and Silver for any commercial uses.
Please DO NOT claim them as your UTAU's.
Give credit to MeltAisu if you use them in a Fanfiction or Illustration.
Ask before for permission to creator about use them for.
This Wiki Page will be edited only by the Creator of Platina and Silver, MeltAisu.
Character
Ad blocker interference detected!
Wikia is a free-to-use site that makes money from advertising. We have a modified experience for viewers using ad blockers

Wikia is not accessible if you've made further modifications. Remove the custom ad blocker rule(s) and the page will load as expected.