'
Her name "Pucca" comes from a japanese wafer candy and "Calpis" comes from a japanese uncarbonated soft drink.
| | | | |
| --- | --- | --- | --- |
| GENDER: | FEMALE | VOICE RANGE: | A#3-D% |
| AGE: | 17 | VOICE SOURCE: | Stephanie Imperial |
WEIGHT:
Unknown
Height:
170cm
MODEL:
NONE
TYPE:
NONE
BIRTHDAY:
August 22
RELATED CHARACTER:
Tarzan (Fellow Imperialoid),

Flor DeChiza ( Fellow Imperialoid)

TaroUtsuben (Fellow Imperialoid) Boy friend.
__________
GENRE
Any
__________
HOMEPAGE
|[
__________
CHARACTER ITEM
Yan Yan
__________
CREATOR
[Stephanie ]
HEIGHT / MEASUREMENTS
|170cm
__________
VOICE SOURCE
|Stephanie Imperial
__________
PICTURE LINK LIST
Not Available
__________
LIKES
|Eat, Sing, Poop, Sleep.
__________
MEDIA LIST
YouTube
__________
RELEASE DATE
|May 1st 2015
__________
DISLIKES
|Unknown
__________
SIGNATURE SONG

Unknown
__________

ADDITIONAL INFO: A bit of a dreamer,Yearns to become a vocaloid.

== Supplemental Information ==
Appearance: She has long brown hair with braids. She wears a low backed, strapless, red satin dress..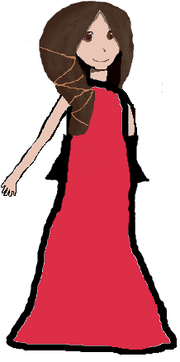 Hair color: Brown.
Eye color: Brown
Headphones: None
Nationality/Race: Irish
(NOTE: Her VB is no't finished.)
== Usage Clauses ==
An official uasage clause is located on her youtube channel
When uploading a work using Pucca Calpis, please credit her in an obvious place.
* Commercial use is allowed with permission from Stephanie Imperial.
* Use of Pucca Calpis i to support or condone illegal activities is strictly prohibited.
* Please ask Pucca Calpis's Creator before redistribution of the voicebank.
* Unofficial costume designs are allowed.
* NL/GL/BL (after genderbend) is allowed.
* Sexual representation is allowed, as long as the legal age limit is observed.
* No responsibility can be claimed for damage caused by the usage of this voicebank.
This article is written and certified true and correct by the UTAUs' voice provider. The details seen here may be subject to change without prior notice.
Ad blocker interference detected!
Wikia is a free-to-use site that makes money from advertising. We have a modified experience for viewers using ad blockers

Wikia is not accessible if you've made further modifications. Remove the custom ad blocker rule(s) and the page will load as expected.