Ad blocker interference detected!
Wikia is a free-to-use site that makes money from advertising. We have a modified experience for viewers using ad blockers

Wikia is not accessible if you've made further modifications. Remove the custom ad blocker rule(s) and the page will load as expected.
 

REi ZERO

(Japanese: 零 Rei)

NAME INTERPRETATION:
零 means "Zero"


MODEL:

√0 because its something stupid to try on a calculator.

GENDER
Female
VOICE RANGE
A#4 - A#5
RELATED CHARACTERS

Kazumine Akira (Friend)


'Chitose'(Cousin)


Yuu ZERO (Twin brother)

AGE

Around


12~14

GENRE
Pop, Techno, Rock
HOMEPAGE
-
WEIGHT
-
CHARACTER ITEM
-
CREATOR
[1]
HEIGHT / MEASUREMENTS
??
VOICE SOURCE
Her boring creator.
PICTURE LINK LIST
Here lol.
BIRTHDAY

11th


November


2012

LIKES

Salt, Games, Pocky, Annoy people and Yaoi.

MEDIA LIST
RELEASE DATE

11th


November


2012

DISLIKES
Boredom, Old people, Old stuffs, Loneliness, Babies and Kagamine Len.
SIGNATURE SONGS

PERSONALITY: REi is an annoying kid, and is also a sadist. Her skin is very pale, like, almost white. She has one sharp canine tooth. She is seen wearing a sleeveless turtle-neck inner shirt and wears a black sleeveless jacket with a hood with pink straight lines on the bottom left of her jacket which resembles the ☐ symbol. The ☐ 'can also be seen at the back of her jacket'.' On her headphone, an X can be seen on the right side and a O can be seen on the left side. Her skirt, has two layers, which is the black ones on the outer side and the green ones on the inner side. A Δ can' be seen 'in that way. That means, REi has a design of 'Δ'☐OX that shows her obsession of gaming. And I seem to have a problem with the bold stuff here.'

Okay she likes to scream in songs
Supplemental Information
Hair color: Black.
Eye color:
Crimson.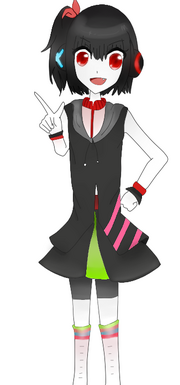 Headphones: Black with a blue X on the right and a red O on the left.
Shirt: .Red and white sleeveless turtle-neck inner shirt.
Jacket: Black, sleeveless hoodie with 3 pink lines at her bottom left part.
Skirts: Two layered, Black for the outer part and Green for the inner part with short black leggings.
Boots: White with glowing green,pink, blue, red at the upper part of the boot.
Voice Configuration
Her voicebank is still available, however is in the worst state. Bear with it.
Newer version and appends are on the way, wait for it!
Relationship
Kazumine Akira - Friend who can stand her annoyance.
Chitose - One and only cousin.
Yuu ZERO - Sad twin brother whom always been her 
Facts
Her name is spelled REi. Not Rei.
And her full name is REi ZERO
That is due to that she had been designed like, 5 times.
She is not a human.
She is something.. the creator dont even know what she is.
But she does have a history of herself but it is only available in the creator's head.
YuuREi simply means ghost.
Usage Clause
Do not change any appearances that already be given out unless there is changes that have been made by the creator.
Ask for permission first if need to use the name for a Role Play.
Certified true and correct from REi's creator, iZeroSalt. Please do not change anything here without my permission.
Thanks Afien for that line. I can't think of anything.