RU-01 Mugi

(Japanese: Myu-ki Kanji: ミュー-気)


NAME INTERPRETATION: RU-01 Mugi


TYPE: Luroid MODEL:RU-01

GENDER
Female
VOICE RANGE
 465.1 Hz  (A#4)
RELATED CHARACTERS


 Ai (Family)

Kei (Family

AGE

 300

GENRE
Anything
HOMEPAGE
WEIGHT
48 lbs
CHARACTER ITEM
Chopsticks
CREATOR


KanariRingo 

HEIGHT / MEASUREMENTS
7'1 feet
VOICE SOURCE
|KanariRingo
PICTURE LINK LIST
BIRTHDAY
Between December 31st and January 1st MIDNIGHT, 1711
LIKES
She LOVES her siblings Ai ang Kei
MEDIA LIST
Youtube
RELEASE DATE
November 27, 2011
DISLIKES
Envy, Hatred, Thieves!
SIGNATURE SONG
I=Fantasy


PERSONALITY:  Is yandere and bipolar; has a split personality. She can be cheeky though'
Supplemental Information
Hair Color: Red (as indicated, but changes shades in different videos)
Eye Color: blue mixed with a tiny tint of light green
Head gear: Single sided earphone with a long beaded strap hanging down
Hair style:One side of her hair, the right side, hangs longer than the rest and is cut sloping upwards. She has straight bangs.
Clothing: A tight sleeveless top that clings around her upper body and neck coupled with short shorts designed with some belt-like accessories behind the waist and down her legs, a pair of arm warmers, a pair of leg warmers and knee length loose socks with hidden boots.
Nationality/Race: Loboroid
Concept Art:
Voice Configuration
Mugi's VB is in Romaji and Hiragana CV.
Preferably used at Y0H0

Download:
http://www.mediafire.com/?pxcn6lfity2pzgw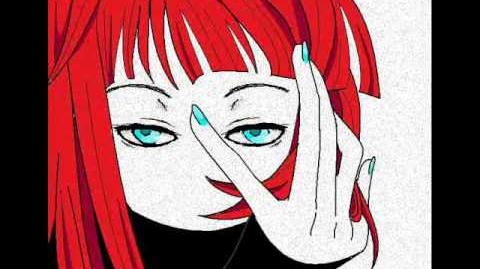 Ad blocker interference detected!
Wikia is a free-to-use site that makes money from advertising. We have a modified experience for viewers using ad blockers

Wikia is not accessible if you've made further modifications. Remove the custom ad blocker rule(s) and the page will load as expected.