RYATALOID M




ライアタロイド M or リャタ マクサム (RYATA MAXUM)

NAME INTERPRETATION:
RYATA リャタ - Derived of his female counterpart -- "Leigh" meaning, delicate, weary

MAXUM マクサム (Surname) - "Greatest"

TYPE: OBSCURALOID
MODEL: M (Part of his name, "Masculine", also means MAXUM)
GENDER
Male
VOICE RANGE
A2~D#4 (Nightmare Tone below C3)
RELATED
CHARACTERS:
AGE
Unknown
GENRE
Rock Ballad
HOMEPAGE
DeviantArt
WEIGHT
130 lb. (59 kg)
CHARACTER ITEM
Black Rose, Scissors
CREATOR
AYATONIC

アヤトニック

HEIGHT
5'10" (177 cm)
VOICE SOURCE
キティ・クライ (Kitty Kurai) / AYATONIC
PICTURE LINK LIST
AYATONIC
BIRTHDAY
February 21
LIKES
Black Roses, Scissors, Sleep, Butterflies, Sweets / Sugar, and Food in general.
MEDIA LIST
Youtube
RELEASE DATE
3/11/17
DISLIKES
Liars and Hot Weather.
SIGNATURE SONG
Tokyo Teddy Bear
ADDITIONAL INFO: RYATAリャ is his female counterpart, but they do not share the same voice. He goes either by his full name, or also by RYATA.
Supplemental Information
RYATALOID M is the first OBSCURALOID published on March 11, 2017 by AYATONIC. His development began on October 20, 2015. His birthday is February 21.
[ ]
Hair Color: Black (Dyed Purple Ends)
Headgear: None (Normal Attire)
Eyecolor: Blood Red
Hobbies: Drawing, Singing, Collecting Sharp Objects, Ice Skating
Occupation: Ice Rink, UTAUloid
Sexuality: Bisexual
Race: Half Vampire
Nationality: Swedish / Japanese (First VB language is Japanese, AUTHOR is Swedish.)
Blood Type:
 O+
Attire: He wears a black choker with a purple cross to dangle from it. On his back is a large violet bow with two very long ribbons that extend down to his feet (They are multicolored purple and black). His torso is predominantly covered by his two shoulder straps which support his corset (Black, held up by his purple band and gray rope to complete it) and his cape. The cape surrounds his mid-ribs to his hips and is black, with a purple trim. It parts in the middle on the front, which exposes his midriff slightly. His pants are segmented, the top half (encasing his hips to above his knees) being more loose, shorts-style with a purple belt that breaks at the front. It also contains two violet strips along his groin. The second sector of his pants envelop his knees and shins skintightly. He has a purple light band around each leg, and the pants themselves are black. His shoes are heeled black boots with a strap and side-chain attached. The toe is purple and solid, and the sole is purple as well. He wears black armwarmers that start below his shoulder (tightly) and run down to his wrists. The hand is mostly covered, loosely, and the armwarmers have a purple trim. He has a tiny "M" on his left shoulder and black finger and toenails. He is described to have heavy eyeliner and long eyelashes, but not in a feminine way.
Personality
RYATA appears rather aloof at most times, he is quiet and has a serious face. However, he has a lot of emotions in his heart. He is lazy and never likes to change his habits. He is also of a shut-in nature, but he will express himself when he is alone. He is slow trusting, and secretive.
RYATA does not have many friends, so he likes to be lonely. He is shy, as well. He enjoys collecting sharp objects and has a love for roses. His appetite can be difficult to please, and he has a secret lust for sugar. However, he especially hates those who lie to him.
(RYATA's personality is made up by his author. The user is free to depict him however they please, however. There is not a limit on his personality.)
Voicebank History
CV: Released March 11, 2017. DL [1] ACT 1
CV Appends:
- POWER: Released April 17, 2017. DL [2] ACT 1
- DARK: Unreleased. (Under production)
- SOLID: Unreleased. (Under production)
- SWEET: Unreleased (Under production)
VCV: Unreleased. (Under production)
CVVC: None, unreleased.
Configuration
CV: Uses flags t-1200h80 and h30. (Only t-1200h80 when UNPITCHED)
CV POWER: Uses flag h30. (Never pitched)
CV DARK: Uses flags t-1200h30

VCV: Uses flags t-1200h80
OTHER: None.
Pitching
RYATA's voice is unnaturally acheived. It comes in 3 styles (Normal CV) UNPITCHED, PITCHED, and Nightmare Tone. All have different settings.
UNPITCHED: RYATA's raw voicebank. Unless otherwise impossible, this setting must use flags t-1200h80 (or h30) to achieve his range. (This setting is for users who want to naturally use him or to avoid going into Nightmare Tone by pitching) It is the simplest setting using flags that are identical to one octave lower in pitch. (His manual pitch settings).
WITHOUT flags, this tone resembles his POWER Append bank, and functions as a "Power" style voice within the same bank. It is, however, strongly recommended to use flags if the voice should be unpitched.
PITCHED: Standard method of tuning - Achieved by using flag h30 only. RYATA is pitched by moving his UST down by one octave. This is the most effective pitching method. (For users who are not scared of accuracy and tone- Produces deeper notes than flag pitching alone).
NIGHTMARE TONE: Very special tone created by embracing the lowest range, achieved with standard pitching. (Move down by one or two octaves) Uses flag h30 only. Nightmare Tone is when RYATA's voice exceeds the C3 octave. It is characterized by low frequency "growly" sounds and muffle. It is sometimes hit unintentionally. (This "tone" is not an Append, but it functions as an alternate voice). Nightmare Tone is simply going below range on purpose - It is not meant to be a "pretty" voice. (This pitch can also be used by putting flag t-1200 on any manually pitched piece for a better range).
Uses
The author does not limit the type of UST used for any given bank, but users MUST properly configure the bank being used, should it be within the recommended UST type or not. Restrictions must be obeyed.
CV Normal: Can be used for any UST... Is generally better for slower, lower songs, but again, it's normal, so it can be used for any general UST with its proper flags and pitching. (No restrictions.)
CV POWER Append: Recommended for harder/higher, faster USTs. It is a sharp voice that can be very strong. (Restrictions: Do not ever pitch this bank.) This bank does not substitute for his normal bank if it is out of the recommended UST type. Please only use this bank in a power setting with proper configuration.
Downloads
MMD Models:
RYATALOID M Original by AYATONIC: http://ayatonic.deviantart.com/art/MMD-UTAU-RYATALOID-M-DL-665766617
RYATALOID M Version 2 by AYATONIC: http://ayatonic.deviantart.com/art/MMD-UTAU-RYATALOID-M-Version-2-DL-FIXED-669018895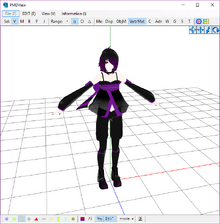 If any other models are to be added, please contact AYATONIC !
Trivia
RYATA is awkward and never likes to fight.
He becomes violent when he gets upset.
He hates hot weather and complains about it.
He rarely cries but gets embarrassed easily.
He admires his cousin, Ryataリア.
His favorite candy is a mint.
RYATA enjoys luxury and will do anything to experience it.
He always eats a lot or almost nothing. There is no inbetween.
RYATA never smiles or laughs- No one has ever heard his laugh.
Usage Clause
General
DO NOT CLAIM THIS CHARACTER AS YOUR OWN.
DO NOT INSTITUTE COMMERCIAL USE OF THIS CHARACTER. This action requires permission.
DO NOT IMPERSONATE THE AUTHOR OF THIS UTAU.
Do not use this character in a hateful or illegal manner. He is free to use, please respect that.
AYATONIC does not claim responsibility for any injuries caused by the use of this voicebank.
DO NOT ABUSE THIS CHARACTER. This is different than graphic fanart.
Voicebank and Song Use
This character is free to use and the author encourages it!
Please include his name in any works he is a part of. (RYATALOID M) In capital, Roman letters.
Permission is not required to obtain his voicebank or use him. Again, it is encouraged.
DO NOT STEAL THIS VOICEBANK OR MODIFY IT. This is allowed ONLY for personal use and betterment of the UTAU.
DO NOT REDISTRIBUTE THIS VOICEBANK. It is NOT hard to find, link back to THIS page.
DO NOT create other UTAUs from these samples.
Please only use the author's recommended flags and pitch settings.
Fan Work
DO NOT USE THIS CHARACTER IN A WAY MEANT TO DEGRADE HIM.
Gore and R+18 content IS allowed.
Memes are allowed. (Again, do not abuse this character.)
Fanart does not need permission to be made! The author encourages it!
DO NOT CLAIM ANY FANMADE INFORMATION ABOUT THIS CHARACTER AS TRUE.
Shipping and Yaoi is allowed, but all works are unofficial unless stated by the author.
Roleplay is allowed and does not require permission.
Administrative
This page is managed alone by AYATONIC. Do not edit any of its content.
References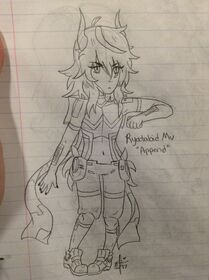 RYATALOID M References / Official Art by AYATONIC
Appearances
Ad blocker interference detected!
Wikia is a free-to-use site that makes money from advertising. We have a modified experience for viewers using ad blockers

Wikia is not accessible if you've made further modifications. Remove the custom ad blocker rule(s) and the page will load as expected.