RYATA MAXUM




リャタ マクサム

NAME INTERPRETATION:
RYATA リャタ - Derived of his female counterpart -- "Leigh" meaning, delicate, weary

MAXUM マクサム (Surname) - "Greatest"

TYPE: OBSCURALOID
MODEL: M (MAXUM) or M01
GENDER
Male
VOICE RANGE
B2~`D#4 (VCV)
RELATED
CHARACTERS:
AGE
Unknown
GENRE
Rock Ballad
HOMEPAGE
DeviantArt
WEIGHT
130 lb. (59 kg)
CHARACTER ITEM
Black Rose
CREATOR
AYATONIC

アヤトニック

HEIGHT
5'10" (177 cm)
VOICE SOURCE
キティ・クライ (Kitty Kurai) / AYATONIC
PICTURE LINK LIST
CV
BIRTHDAY
February 21
LIKES
Black roses, and sugar.
MEDIA LIST
Youtube
RELEASE DATE
3/11/17
DISLIKES
Hot Weather.
SIGNATURE SONG
Snow White Princess
ADDITIONAL INFO: RYATAリャ is his female counterpart, but they do not share the same voice. His real name is RYATA MAXUM.
Supplemental Information
RYATALOID M is the first OBSCURALOID published on March 11, 2017 by AYATONIC. His development began on October 20, 2015.
Hair Color: Black (Dyed Purple Ends)
Eyecolor: Blood Red
Race: Half Vampire
Nationality: Swedish / Japanese
Blood Type:
 O+
Personality
Described as very aloof on the outside, though actually having an intense emotional heart. He has an unruly appetite, accompanied by his lust for sugar. He is always alone, exceeding his perpetual laziness. He rarely ever raises his voice, or smiles.
Voicebank History
CV: Released March 11, 2017. DL [1] ACT 1 (Standard RYATA) Flag: t-1200h30.
- POWER: Released April 17, 2017. DL [2] ACT 1 (Shrill and hard voice. Not for slow songs) Flag: h30.
- DARK: Released June 13, 2017. DL [3] ACT 2 (Slower shadowy voice... Half whisper) Flag: t-1200h30.
- SOLID: Unreleased. (Under production)
VCV: Released July 5, 2017. DL [4] (Clear, normal dynamic monopitch) Flag: g4t-1200h30.
Arpasing: Unreleased, in production. (Started 7/8/17)
VCCV: None, unreleased.
MMD Model
AYATONIC's RYATALOID M Version 2: http://ayatonic.deviantart.com/art/MMD-UTAU-RYATALOID-M-Version-2-DL-FIXED-669018895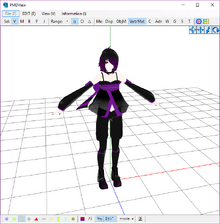 If any other models are to be added, please contact AYATONIC !
Character Trivia
RYATA is awkward and never likes to fight.
He is a terrible cook.
He hates hot weather but also hates water.
He rarely cries but gets embarrassed easily.
He is actually incredibly oblivious.
RYATA is bisexual.
His favorite candy is a mint.
RYATA is addicted to luxury.
He hates riding in cars.
When he isn't sleeping, he is probably eating.
Despite his strong appetite, RYATA is prone to motion sickness quite easily.
RYATA never laughs- No one has ever heard his laugh.
RYATA has vampire fangs.
He is deathly afraid of heights.
Usage Clause
DO NOT: Claim this work as your own, humiliate the character, or fail to write his name properly.
YOU CAN: Use without permission: His banks, create fanart, roleplay and shippings. Nothing is official without his creator's consent.
R-18 content is allowed but not encouraged.
Administrative
This page is managed alone by AYATONIC. Do not edit any of its content.
References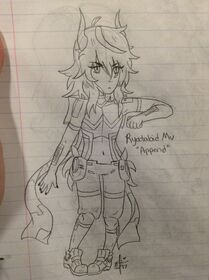 RYATALOID M References / Official Art by AYATONIC
Ad blocker interference detected!
Wikia is a free-to-use site that makes money from advertising. We have a modified experience for viewers using ad blockers

Wikia is not accessible if you've made further modifications. Remove the custom ad blocker rule(s) and the page will load as expected.