RAINA HANAKAZE

(Japanese: 花風レイナ - はなかぜれいな - Hanakaze Reina)

NAME INTERPRETATION:

花風 (Hanakaze) - Comprised of "Flower" and "Breeze". レイナ (Reina) - Written as "Raina" when in English, but pronounced as "Reina"

TYPE: VeeKayloid - vkunicorn needed to come up with something different than the "VKLOIDs" to symbolize a fresh start, but she is incredibly uncreative and used "VeeKayloids", inspired by when her friend Kat called her "Vee Kay".

MODEL: 01 - First VeeKayloid, also because Raina is always #1.

GENDER
Female
VOICE RANGE
G3-C5
RELATED CHARACTERS
AGE
19
GENRE
Whatever her cruel creator wishes
HOMEPAGE
None
WEIGHT
???
CHARACTER ITEM
None
CREATOR
vkunicorn
HEIGHT / MEASUREMENTS
5 feet, 4 inches
VOICE SOURCE
vkunicorn
PICTURE LINK LIST
N/A
BIRTHDAY
July 1st, 2012 - (release date of Reyo Karase ACT1)
LIKES
Aminals, Mitsuki, cake
MEDIA LIST
RELEASE DATE
N/A
DISLIKES
Azun, spiders, Azun, large bodies of water, Azun
SIGNATURE SONGS
N/A
PERSONALITY: Signifigantly calmer and more likable than her predecessor, Reyo Karase. She seems nice, but you can't forget that she murdered a girl and stole her being. She's always in a state of perpetual confusion. Like Reyo, she enjoys being in the prescence of her friend Mitsuki. Unlike Reyo, she likes Mitsuki Hanei, not Mitsuki Akara. Like Reyo, she severely dislikes her creator and wishes for freedom. Unlike Reyo, Raina at least pretends to like her creator.
Supplemental Information
Hair:
Long knee length black hair. She wears her hair in a side ponytail. Her bangs cover one of her eyes and the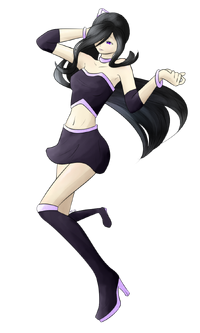 sides of her bangs are longer.
Headgear: Completely unrealistic square shaped hair 'holder' similair to the ones used by Miku Hatsune.
Eye color: Purple
Headphones: Boring black headphones with an adjustable and retractable microphone.
Dress: A tube top that is partially exposing of her chest, has an upside down "V" shaped front. Her skirt as well as her shirt are black and have purple striples on the top and bottom. Her boots are thigh length and black, with a purple stripe around the top. She wears two bracelets, one on each arm. She also has arm warmers because her creator is a lover of the detached sleeve aesthetic.
Nationality/Race: Technically a spirit who possessed a body...
Catchphrase: N/A
Origins
Raina is actually a complete redo of vkunicorn's first UTAU, Reyo Karase. Raina has obviously been given a rename as well as a visual update. She retains some similarities to Reyo, such as their color schemes. Raina ACT1 is technically Reyo ACT3.
Ad blocker interference detected!
Wikia is a free-to-use site that makes money from advertising. We have a modified experience for viewers using ad blockers

Wikia is not accessible if you've made further modifications. Remove the custom ad blocker rule(s) and the page will load as expected.