RAMMY KURIGA


(Japanese: 栗歌ラッミ - くりがらっみ - Kuriga Rammi)

ALIAS: Rammy Boo Boo                                                                                                                  NAME INTERPRETATION:
栗歌 (Kuriga; Chestnut Song) - A reference to his chestnut brown color scheme.
ラッミ (Rammi; Rammy) - A play on the word "Ram", changed to make it seem like a child-like name.
TYPE: UTAUloid
MODEL: 

µ93

GENDER
Male
VOICE RANGE
A#2 - A5 (Default bipitch voicebank)
RELATED CHARACTERS

Karasu Yuutsukoe (Weird gay bird thing)

Yui Akine (Close friend, seen as a little sister figure)

AGE
15
GENRE
Rock, Electronic, Soft Rock
HOMEPAGE
muginet
WEIGHT
132 lbs (59.8 kg)
CHARACTER ITEM
A small ram plushie
CREATOR
mugi
HEIGHT
5'6" feet (167.6 cm) 
VOICE SOURCE

mugi

PICTURE LINK LIST
CONCEPT ART , PIAPRO, PIXIV, DEVIANT ART, GELBOORU, GOOGLE IMAGE, PHOTOBUCKET
BIRTHDAY
March 20, 1997
LIKES
Tea, Hot chocolate, warm places, fleece, blankets, Yui's cabin, autumn.
MEDIA LIST
NICONICODOUGA, YOUTUBE
RELEASE DATE
June 10, 2014
DISLIKES
Being cold, darkness, humidity, winter, medicine, vegetables.
SIGNATURE SONG
UNIVERSE
PERSONALITY: Rammy is an interesting character. He enjoys resting and doing nothing. He also enjoys staying at Yui's cabin, and drinking her pumpkin-spice tea. He often acts as an older brother figure towards her.
Supplemental Information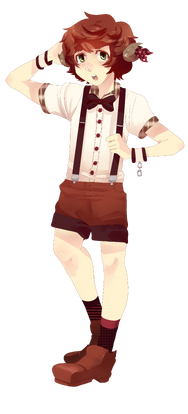 Hair color:
 Chestnut brown
Headgear: None
Eye color: Olive green
Earphones: None
Dress: A short sleeved dress shirt, with plaid cuffs; a bow tie with a red strip wunning horizontally through the middle; maroon suspenders, cuffed chestnut brown shorts, two wrist cuffs (the right one has a chain hanging form it); a pair of mismatched socks (the left sock is striped, while the right is polka dotted); a red polka-dotted bandana tied around his right horn; and chestnut brown dress shoes. His alternate design features him with a red and black striped scarf .
Nationality/Race: Ram.
Relatives: None (however, he sees Yui as a little sister figure)
Other: Rammy's voicebank actually predates Kaz's, despite him being released a full 5 months prior to Rammy's. I recorded Rammy as a test to see how well I could voiceact a bank, and set him aside to work on other voicebanks, however upon rediscovering the bank I gre fond of it, and worked toward releasing him!
Voice Configuration
VOICEBANK INFORMATION

NOTE: These settings are for Rammy's Full VCV ver1.00
ARCHIVE FILENAME
栗歌ラッミ

続音ver1.0.rar

ARCHIVE FILESIZE
238 

MB

DATE RELEASED
6/10/13
NO. OF VOICE PHONEMES
2770
TOTAL UNCOMPRESSED SIZE
392 MB
PHONEME ENCODING

Full VCV

AVERAGE FREQUENCY
A3
FRQ FILE PRESENCE
Yes
LANGUAGES SUPPORTED
Japanese 
UNOFFICIAL SUPPORTED LANGUAGES
additional samples added to help handle non Japanese words
OTO.INI PRESENCE
Yes
TUNED OTO.INI
Yes
LANGUAGE PARSED VIA OTO.INI
Japanese
VOICEBANK VOICER

mugi

TECHNICAL DIRECTOR
mugi
RECORDING SOFTWARE USED
Oremo
VOICEBANK EXTENSIONS PRESENT
-
DOWNLOAD
Ad blocker interference detected!
Wikia is a free-to-use site that makes money from advertising. We have a modified experience for viewers using ad blockers

Wikia is not accessible if you've made further modifications. Remove the custom ad blocker rule(s) and the page will load as expected.