Ran Kitsune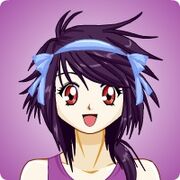 NAME INTERPRETATION:

Ran: No special meaning, a Japanese name; Kitsune: Fox

TYPE: UTAUloid
GENDER
Female
RELATED CHARACTERS

Kriss Futarine (obsessive crush!), Shadoo (enemy), Yuzuki Yukari (idol), Ranyo Kitsune (brother/genderbend), Viv (friend), Trivy Sankakukei (friend), Yalazo (friend), KANASHII (friend)

AGE
14 (but she seems much younger sometimes)
CHARACTER ITEM
Smartphone, Blackcurrant lolly
CREATOR
Espeona Wulf
VOICE SOURCE
Espeona Wulf
PICTURE LINK LIST
None yet
BIRTHDAY
24th of May
LIKES
Kriss Futarine, stalking him, blackcurrant lollies, the game "Yandere Simulator"
Websites:
Instagram
DISLIKES
Other girls who are hanging out with Kriss, being away from him, bitter tasted food
SIGNATURE SONG
Rotten Girl Grotesque Romance (Stalker) (of the CV) Kuro Ageha (of the VCV) Antibeat (of the CVVC) Avenir (of the French CV) Dors mon Ange (of the French CVVC)
PERSONALITY: She's a Yandere with an obsessive crush on FRAloid Kriss Futarine. She stalks him 24 hours a day and will do EVERYTHING to become his girlfriend. She even wants to kill every other girl who likes him. She's at enmity with Shadoo for an unknown reason and loves sweets, especially blackcurrant lollies.
Supplemental Information
Hair color: Purple Eye color: Red Earphones: None yet Nationality/Race: German
Downloads
Her first voicebank can be downloaded here (it's a CV with hiragana filenames and romaji aliases)
Ran Kitsune's VCV voicebank will be redone soon!
A French CV voicebank of Ran Kitsune is available here
A Japanese CVVC voicebank of Ran Kitsune is available here
The new version of a French CVVC voicebank can be downloaded here
A German CVVC Voicebank of Ran Kitsune will be released very soon (oto.ini has to be finished)!
Her MMD-model (by Chitaci thepeace) can be downloaded here
Covers with her
Rotten Girl-Grotesque Romance (Stalker) iNSaNiTY (with Kriss Futarine) Scissoroid (with Shadoo) Electric Angel (with Kigiku Shikane) True Love Restraint ELLIE Childish War (with Kriss Futarine) Tsukema Tsukeru (YouTube) Tsukema Tsukeru (SoundCloud) Nyan Cat! Hide and Seek (by UTAU Teal Courage) Kuro Ageha (VCV) Anti Beat (CVVC) Avenir (French release) ♣ ECLOSION ♣ (French CV) Le Bien Qui Fait Mal (French chorus with her) Ta Fête (French CVVC) ♣ ECLOSION ♣ (French CVVC) by Karma-P/Kaяma (SoundCloud) You're seriously mad? I'm not mistaken here! Dors mon ange (French CVVC release) Smoke and Mirrors (French CVVC) The Tailor Shop on Enbizaka (Soundcloud) Sunset Love Suicide (Soundcloud)
Pictures of her
Ad blocker interference detected!
Wikia is a free-to-use site that makes money from advertising. We have a modified experience for viewers using ad blockers

Wikia is not accessible if you've made further modifications. Remove the custom ad blocker rule(s) and the page will load as expected.