Re


japanese:れ

NAME INTERPRETATION:

れ  (Re) is the italian for "king" and it's also a musical note

TYPE: Utauloid
MODEL: NONE
GENDER
Female
VOICE RANGE
B2-E6
RELATED CHARACTERS
AGE

23

GENRE

Pop

Rock

HOMEPAGE
http://retheitaliankire.weebly.com/

WEIGHT

 64 kg
CHARACTER ITEM
CREATOR
HEIGHT / MEASUREMENTS
163cm/5'3 feet
VOICE SOURCE
Flamingo sama
PICTURE LINK LIST
BIRTHDAY
21 december
LIKES

- shiny things

- to jeer people

- stay alone

- sleep

MEDIA LIST




RELEASE DATE
21 december, 2013
DISLIKES

- people 

- noise

- bugs

SIGNATURE SONG
Anti Beat

PERSONALITY:'Re' truly hates to talk to most of people considering them not enough for her,at the first she can look sweet and polite but this is only her way to trick people around her to get favor and to humiliate them .The truth is that she don't know how to talk (but probably even if she could do it she sounded meaner) that's why she try spend all her time alone or trolling people online. But if she get close to people she also can be "sweet" with them, with her friends Re is still a bit of a troll, but in a friendly manner, basically, she's a big sister

She has an odd interest in computer programming at the point that she spend entire days encoding.

Since she was a child she wanted to became a king and now it's like an obses'sion to her.
Supplementar informations
Appearance: a bit on the fatty side, she has hug boobs
Hair color: Blue, light blue on top and a darker shade bottom.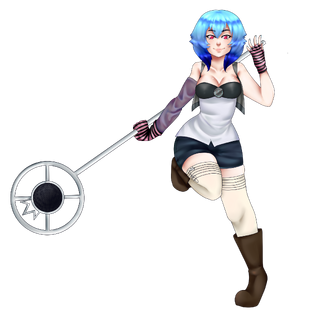 Eye color: Fucsia.
Earphones: none.
Dress: her current outfit is made of a black and withe shirt, a grey gilet, a purple sleeve, a pair of stripes fingerless gloves, blue shorts, long socs and brown simple boots
Nationality/Ethnicity: Italian
Voice configuarion and Downloads
Re has 3 voicebanks, a normal one(act 1 and 2) and an append one called Shirokuma king (basically it's a strong append)
the normal one(act 1) has the range D#4 and can be download here (i don't recommend it because it doesn't sound as good as her append) download http://www.mediafire.com/download/atbu5e9t1mj5p2n/RE.rar

her append has the range A#3 http://www.mediafire.com/download/427fa8tgtrvyd42/Re_shirokuma_kingu_append.rar
the act 2 is range D#4 and has a kire voice
http://www.mediafire.com/download/s9f7m1fmxsdtxy7/Re+act+2.rar
her full vcv i s4 pitched voicebank (D4, E4,G3,G4) http://www.mediafire.com/download/1ganillxz5e5ef3/Re+vcv+multipitch.rar
she has a 2.0 KK/KING KUMA append http://www.mediafire.com/download/rbl70qc0s2i99qe/Re+kk.rar
a Puffy append http://www.mediafire.com/download/70yq267yo6svqig/Re+puffy.rar
and a Liontaraki(sweet)append
http://www.mediafire.com/download/l81fdlm1g5lc31l/Re+liontaraki.rar
Re has a mmd model made by Grumpycatt http://flamingo-sama.deviantart.com/art/UTAU-Re-MMD-462762911
Usage Clause
you must credit if you use re or any art related with the creator (flamingo-sama)