RedScorpion

NAME INTERPRETATION:
RedScorpion was an old nickname of the creator. She is a representation of the creator.

TYPE: Bechaloid

MODEL: Bechaloid 27

GENDER
Female
VOICE RANGE
F3-F5
RELATED CHARACTERS
Hatsune Miku(idol)
AGE
15
GENRE
Unknown
HOMEPAGE
WEIGHT
Unknown
CHARACTER ITEM
Apple (green or red)
CREATOR
Becha27
HEIGHT / MEASUREMENTS
173cm tall
VOICE SOURCE
Becha27's voice
PICTURE LINK LIST
DeviantArt
BIRTHDAY
August 2 2012 (date created)
LIKES
Apples, toffee,computers, singing, dancing, vegemite and cats.
MEDIA LIST
Youtube
RELEASE DATE
19 of November 2012
DISLIKES
Maths, big dogs, cold weather.
SIGNATURE SONG
PERSONALITY: She is very friendly and quite childish, she can be really random at times and appears somewhat insane and i bit of a pyro... but she is a nice person and likes spending her weekends on the computer. She can also talk to cats and has adapted other animal languages.
Apperence: Red and green spiky hair and cat ears. A similar outfit to the famous Vocaloid Hatsune miku. Her belt rope accessory partly broken and hangs out the back like a tail. One red eye one green eye. Has REDSCORPION.27 written across the left side of her stomach.
This UTAU voicebank is a Bechaloid, Bechaloid is an unofficial group, we (Me, Myself and I) do not make money from this product yet all rights of the character and voice belong to Bechaloid.
APPEARENCE
Hair: short, spikey, red and green
Head: real cat ears
Eyes: red and green
Outfit: black shirt with red edges, black skirt with red edges, sleves with red and green edges, thigh-high boots, short red tie, green and black belt rope accessory partly broken, black cycling shorts.
Markings/Tattoos: REDSCORPION.27 across the left side of her stomach.
Act1 Voice Bank 
Download
<---CLICK :)
English/Japanese voicebank
Romaji encoded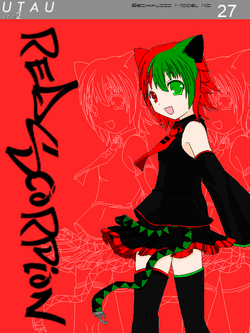 Act 2 Voice Bank Download
English/Japanese voicebank
Romaji encoded
Ad blocker interference detected!
Wikia is a free-to-use site that makes money from advertising. We have a modified experience for viewers using ad blockers

Wikia is not accessible if you've made further modifications. Remove the custom ad blocker rule(s) and the page will load as expected.