Redd Cylix

(しれつ レッド Shiretsu Reddo)

NAME INTERPRETATION: Redd: variation on "Red", the color he's associated with

Cylix: Latin for "Goblet", his character item

TYPE: 7loid - Avarice

MODEL: <>XI-74

GENDER
Male
VOICE RANGE

G#2~G#6 (ACT1)

A#2~E4 (ACT2.2)

RELATED CHARACTERS

Munair Harmonia

Δelta

AGE
34
GENRE
Electronica and Jazz
HOMEPAGE
WEIGHT
Unknown
CHARACTER ITEM
Diamond-studded Goblet
CREATOR
Illisandria Carthain
HEIGHT
Unknown
VOICE SOURCE
Illisandria Carthain
PICTURE LINK LIST
None
BIRTHDAY

Unknown

LIKES
Coins, the smell of metal
MEDIA LIST
Soundcloud
RELEASE DATE
7/2/2013
DISLIKES
Paper money, free things
SIGNATURE SONG
None

PERSONALITY: (not a backstory) Redd is a major believer in Fate and makes all his decisions based on a coin flip. He has a love for money, but only coins, and he is in NO way frugal.

(You are allowed to adjust other aspects of his personality as you or the song sees fit.)
Supplemental Information
Hair Color: Red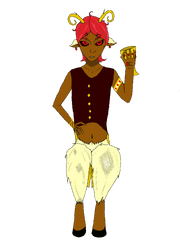 Eye Color: Red with burgundy sclera
Outfit: Wears a red vest with gold silk lining and diamond-shaped buttons.
Nationality/Race: Faun
Voice Configuration
Redd is recorded in romaji with kana aliases and minor English compatability (th-, tth-, and l-samples). His ACT2.2 has more English compatability (th-, tth-, l-, and english r- samples) as well as ending breath sounds and a breathing string.
Voicebank Downloads
ACT1 (L.Q. CV)
Usage Clause
This bank can be used for anything except:
songs that bash any people for their religion, orientation, or any other thing
songs that are intentionally created to troll/flame/start shipping wars/etc;
stealing an calling your own
redistributing without permission
​Upcoming Voicebanks
ACT2.2 (release date soon)
Ad blocker interference detected!
Wikia is a free-to-use site that makes money from advertising. We have a modified experience for viewers using ad blockers

Wikia is not accessible if you've made further modifications. Remove the custom ad blocker rule(s) and the page will load as expected.