Reiji Suzuki


(Japanese: N/A - N/A - )

NAME INTERPRETATION:
N/A (Reiji; -- )
N/A (Suzuki; -- )

TYPE: UTAUloid
CV MODEL: 96
GENDER
Male
VOICE RANGE
A2~A4
RELATED CHARACTERS
AGE

13

GENRE
--
HOMEPAGE

[--]

WEIGHT
45 kg
CHARACTER ITEM
A bag of semi-dark chocolate chips
CREATOR
HEIGHT
4'9
VOICE SOURCE

NintendArt789

PICTURE LINK LIST

[GOOGLE IMAGE]
[DEVIANT ART]
[INSTAGRAM]

BIRTHDAY
August 22nd
LIKES
Chocolate, lollipops, anything sweet, Video games, attention.
MEDIA LIST

[YOU TUBE]
[NICO NICO]
[SOUNDCLOUD]

RELEASE DATE
Unknown
DISLIKES
Being called cute or shota, spinach, needles, spiders.
SIGNATURE SONG
Unknown

PERSONALITY: Reiji's a cocky, overconfident little smart aleck who'll do anything to get on someone's nerves. He's pretty mellow and will mainly use sarcasm and taunts to get what he wants. He can go pretty far with his pouting if the desired effects aren't gained and will go completely snappish if you call him little or cute. He refuses to back down from any sort of fight or bet, no matter how dangerous or ridiculous it is; He's too confident for his own good. Beneath his obnoxious, cocky attitude, he's actually a nice guy for the most part.
Supplemental Information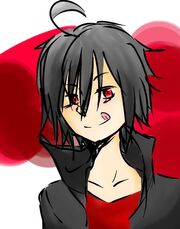 Hair color: Gray
Headgear:
Eye color: Red
Earphones:
Dress/Outfit:
Nationality/Race:
Voice Configuration
BETA -- Undergoing construction
ACT 1 -- To be released
ACT 2 and 3 --
ACT 4 --
Facts/Trivia
He finds enjoyment in irritating others, especially when it gains him attention.
He's ridiculously reckless.
He despises the term "shota" to be associated with him.
He'll get flustered if you mess with his ahoge.
His first design was drawn by [1].
Usage Clause
The creator of Reiji Suzuki, iBubbs, does not allow others to claim credit for the UTAU, such as voice, name, design, etc. and the use of Reiji Suzuki's name or persona for any online roleplay purposes without permission.
Making pitchloids and such made outside of the UTAU program from Reiji Suzuki's voice is forbidden.
Fan-created artworks, doujin, fanfiction, music, etc. are acceptable, seeing that they have no sexual/mature/pornographic/relatively inappropriate content. Cursing is prohibited.
Reiji Suzuki's voicebank and/or artwork may NOT be used commercially in any way. Voicebank is for non-commercial use only. Reiji Suzuki's Voicebank may NOT be used for specifically discriminating a political or religious message.
All content in this page is maintained and verified true by iBubbs, Reiji Suzuki's voicer and creator. The details seen here may be subject to change without prior notice.
Ad blocker interference detected!
Wikia is a free-to-use site that makes money from advertising. We have a modified experience for viewers using ad blockers

Wikia is not accessible if you've made further modifications. Remove the custom ad blocker rule(s) and the page will load as expected.