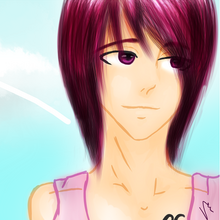 ==Reika Sasaki==

(Japanese: 麗花 佐々木)
NAME INTERPRETATION: Reika (麗花) "beautiful, flower". Sasaki (佐々木) is the 14th most common Japanese family name. Notable people with the surname include.
Disclaimer:
TYPE: 

UtArtloid 04 

'(VocArtloid) 

MODEL:

06 - the "06" signal on her right breast.
GENDER
Female

VOICE

RANGE

C4-G3

RELATED

CHARACTERS

AGE
17
GENRE
 Rock, Metal, Pop...
HOMEPAGE
DA GROUP
WEIGHT
55 kg
CHARACTER ITEM
Black cat
CREATOR
Jashy
HEIGHT
165 cm
VOICE SOURCE
Jashy
PICTURE LINK LIST
Deviantart
BIRTHDAY
13.Marc
LIKES
bad boys, Hiro, sleeping, rock music, singing, boyish things...
MEDIA LIST
RELEASE DATE
06. August. 2014
DISLIKES
combativeness, counterfeit singing, cheesy things
SIGNATURE SONG
Children's war
Character Design

Hair color: short, dark red-purple hair.
Eye colour: purple.
SHE HATES SKIRTS!!! (on herself)
Nationality: Hungary
Catchphrases
"Oh God....Why?"
"Like a boss!"
"なんで?! (= nande, "Why?" in english)"
"Fine...."
"Nero! What are you doing with my big brother?"
Voice Configuration
UPCOMING VCV bank! She still singing in Japanese now. She likes more powerful songs. She can sing in deep and high too.
If you want her voicebank, please send me an e-mail here: jashinrei@gmail.com /or contact me on Twitter
Extra Character Relation
Facts
She is bisexual
She likes to talk dirty
Usage Clause
Do not change her design unless just clothing for a specific song.
Please DO NOT use any other pitches than has been given in the info above.
If you use it, then please show me *3*