Renji Wajima


(Japanese: 輪島レンジ - ワジマレンジ - Wajima Renji)

NAME INTERPRETATION:
レンジ (Renji; Range) - This name was given to her as she can reach any vocal range

TYPE:
MODEL: 210 - This model imprint is shown at the back of her neck.
GENDER
Female
VOICE RANGE
any

RELATED CHARACTERS

 Renshi 

(confirmed cousin)

Gakupo [idol]


松田っぽいよ [frequent singing partner]

AGE
unknown
GENRE
any
HOMEPAGE
??
WEIGHT
unknown
CHARACTER ITEM
chocolate bar
CREATOR
SoulTribute13
HEIGHT / MEASUREMENTS
(according to the height of the creator)
VOICE SOURCE
SoulTribute13
PICTURE LINK LIST
deviantart
BIRTHDAY
unknown
LIKES
UNKNOWN
MEDIA LIST
RELEASE DATE
June 2, 2012
DISLIKES
Raisins
SIGNATURE SONG
None Yet

PERSONALITY:

Has a boyish and rude attitude. Likes to fool everyone by her nice and gentle appearance. She likes to prank people and will do anything for chocolate. And whenever you give her food with raisins, prepare for the worst thing that could happen to you. Likes to play bass.
Voice Configuration
Renji's voice is by default, encoded in Romaji. Currently, her cv voicebank only supports Romaji. There are definite plans for a total revamp or remastering of her voice.
Renji's creator released a WIP voicebank: Wajima Renji/Renhi WIP voicebank
**The release of Renji's/Renshi's full CV voicebank has been cancelled due to   the low quality of the voicebank, but will still be used for certain covers/
original songs.**

VCV Voicebank
VCV Voicebank status: Completed Her VCV voicebank is a standalone voicebank.
The owner released Wajima Renji VCV voicebank.
Design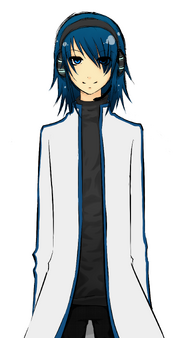 Renji has a white coat with blue edges, has black headset, has a sleeveless turtleneck shirt (which she nicknamed T-shirt), has pants that reaches the knee, and black boots.
The Male version (which is still WIP) has a long hair, with headsets, wearing only the T-shirt and some bracelet thingy on his biceps, and black pants, black shoes.
Hair color: Navy Blue
Headgear: Headset
Eye color: bright navy blue
Clothes: Outer: White coat
Inner: Black Sleeveless turtleneck shirt and short, black pants(reaches the knee) and high cut black boots
Catchphrases: "CHOCOLATE?!!", "Yeah",  "食べたい。。。(I wanna eat...)"
VCV Design

Hair Color: Navy blue
Eye Color: Bright Navy Blue
Headgear: Black Headphones with sky blue lights (built-in mic), sometimes she wears a white earphone with built in mic. She rarely uses it.
Clothes: Red polo shirt, black blazer, black pants, and converse shoes.
Accessories: none
Instrument: Bass
Terms and Conditions
If you use Renji's voicebank(s), give credit.
Do not redistribute any of the voicebanks.
Do not use to cause flaming anywhere in the internet in his/her name.
You may not claim this character or voice or voicebank as your own.
Do not re-pitch the voice and claim it as your own.
It's okay to edit Renji's wiki, but strictly for good purposes only.
Re-doing any previously done songs with her is fine.
Anyone can download and use any of the voicebanks.

Certified official from the creator,SoulTribute13. The details seen here may be subject to change without prior notice.
Ad blocker interference detected!
Wikia is a free-to-use site that makes money from advertising. We have a modified experience for viewers using ad blockers

Wikia is not accessible if you've made further modifications. Remove the custom ad blocker rule(s) and the page will load as expected.