Ad blocker interference detected!
Wikia is a free-to-use site that makes money from advertising. We have a modified experience for viewers using ad blockers

Wikia is not accessible if you've made further modifications. Remove the custom ad blocker rule(s) and the page will load as expected.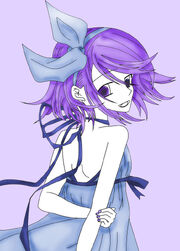 Rika Yamane is made by VocaHetaFMA in YouTube. Also her voicebank is creators' own voice.
Rika is half Finn and half Japanese but she usually  speaks Japanese. She likes to sing songs which includes blood and everything else like that. She also likes to stalk her chrush, Luka Megurine. She also likes Yukari Yuzuki and Gumi Megpoid. She doesn't actually hate anybody, but many many others doesn't really like her.
| Japanese name | リカ 山音 |
| --- | --- |
| Gender | Female |
| Age | 16 |
| Height | 168 cm |
| Weight | 56 kg |
| Main color | Light purple |
| Character item | Purple grapes |
| Birthday | 20th of September |
| Debyt song | Cantarella |
| Languages | Japanese, English, Finnish |