RINI DOMANE


(Japanese: - リニDomane - Rini Domane)

NAME INTERPRETATION:
Domane (Domane

) -

Unknown
リニ (Rini) - Just her first name
TYPE: Failoid - (UTAUloid that is screwed up in some way)
MODEL: F37 - (F standing for FAIL)
GENDER
Female
VOICE RANGE
C3 and higher
RELATED CHARACTERS

(Singing partner and crush)

Summer Red

(Friend)

AGE
16
GENRE
Sweet, loud, and fun
HOMEPAGE
WEIGHT
115 lbs (44.3 kg)
CHARACTER ITEM

A lamp

CREATOR
thehackerchihiro
HEIGHT
5'6"
VOICE SOURCE
thehackerchihiro
PICTURE LINK LIST
BIRTHDAY
April 29
LIKES
chicken, ramen, chinese food, kawaii stuff
MEDIA LIST
YOUTUBE
RELEASE DATE
October 21, 2011
DISLIKES
Mean people, bad chicken, hot sauce
SIGNATURE SONG
Last Song
PERSONALITY: Rini is possibly the sweetest half robot you could ever meet. She enjoys cooking, mostly chicken, and dancing. She likes her voice because she has a subtle robot tone in it. A normal day for her includes going to the store, writing, staring at teh stars, and playing video games. If she's caught off gaurd, the pupil on the robot side of her face will glow brightly. If there was a stray animal on the streets, she'd feed it whatever she had.
Supplemental Information
Hair color:
Purple and Navy Blue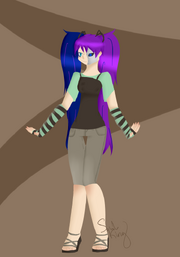 Eye color: Light Blue and Navy Blue
Clothing: everything is mint colored Nationality/Race: Robot/Human
Voice Configuration
Voicebanks for download:
Rini Domane ACT1 http://www.mediafire.com/?5c4kp78aa0yba7v
Rini Domane ACT2 http://www.mediafire.com/download/9v0d2ebicqc6fr6/RIni_Act2.zip
If there are any problems with the voicebank, please let me know.
Anyone can use Rini, as long as they follow basic Utau guidelines.
If you want to: Show Soul any work with her in it.
Ad blocker interference detected!
Wikia is a free-to-use site that makes money from advertising. We have a modified experience for viewers using ad blockers

Wikia is not accessible if you've made further modifications. Remove the custom ad blocker rule(s) and the page will load as expected.