100px

Rita Kiken'na




(Japanese - リタ危険な - りたきけんな - Rita Kiken'na)

NAME INTERPRETATION:
リタ = Rita; name means "Beautiful Pearl."危険な = Kiken'na; means Dangerous. So, she is a "Dangerous ans Beautiful Pearl."
TYPE: UTAUloid
MODEL: Meme420
GENDER
Female
VOICE RANGE
B2~F#5,95bm
RELATED
CHARACTERS:
AGE
17
GENRE
Rock
HOMEPAGE
None exists at this point in time.
WEIGHT
160lbs
CHARACTER ITEM
Banana Ice-Cream
CREATOR
Dazen and Gavenloid
HEIGHT
5 foot 7
VOICE SOURCE
http://ebflover777.newgrounds.com/
PICTURE LINK LIST
Not available
BIRTHDAY
June 6
LIKES
Banana Ice Cream, Gavenloid, cats, webcomics, social media, music
MEDIA LIST
https://www.youtube.com/watch?v=hbx6j596H60
RELEASE DATE
April 22, 2016
DISLIKES
Life itself and school
SIGNATURE SONG
ENGLISH: Q-)

Chinese: Circus Monster Japanese: 1, 2, FANCLUB! -PENDING- Korean: Hide & Seek VcV: ??? Screamo: ???

ADDITIONAL INFO: Rita "is" super shy, and "will only" communicate with friends, and when "upset and/or scared". In reality, Rita is delusional and will not communicate easily because of it. She believes she is a goddess.





She was released on 4/22/16, another thing to note is that she is a lesbian with feelings for Nijirezuko Hana.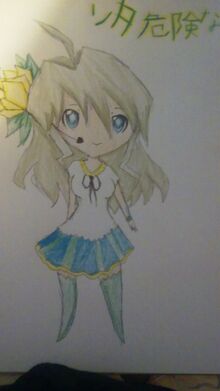 Character Design(REVAMPED)
Headgear: Yellow Water Lily Crystal Headphone with Microphone(other headphone is hidden in hair)                                                              
Clothing: Frilly white shirt with yellow, blue, and green cheerleader skirt, yellow necktie, 2 green bracelets
Eye Color: Cerulean
Hair Color: Gold
Nationality/Race: Irish American
This has been confirmed by the Creator of this UTAU.
Voice Configuration
WARNING: HER VOICE HAS SIMILAR PROBLEMS TO SF-A2 MIKI, AND SHE PRONOUNCES "I" AS "AI", AND EVEN DOESN'T HAVE AN OTO.INI
Romaji Voicebank Download: http://www.mediafire.com/download/rdl236v9wqcscvc/Kiken%27na+Rita.zip
Chinese & Korean+ English Phonemes(ENGLISH BETA VER. 1.0):[1]
Hiragana + Romaji VB Download: Here
Usage Clause
THE FOLLOWING IS FORBIDDEN:
-18+ Art
THE FOLLOWING NEEDS PERMISSION:
-Derivatives
-Redesigns
-Shipping
-Being her in RP's
THE FOLLOWING IS PERMITTED, AND IS EVEN RECOMMENDED!
-Making a OTO.ini file for Rita Kiken'na