Hej04 (talk) 07:18, June 21, 2015 (UTC)
                              

RIZA NAEGI

(Japanese: リズ苗木 - りざなえぎ - Riza Naegi)

NAME INTERPRETATION:

りざ (Riza: In Japanese, the name "Riza" is not used very often. It can also be used as a word. It is more used in the Chinese language. The name/word means "harvester, reaper". )

なえぎ(Naegi: In Japanese, the name "Naegi" is commonly used in the Japanese language. This name means "sapling". )

TYPE: UTAUloid, SHIPloid, Lizloid

MODEL: T-19, 3148

Her four digit model number "3148" stands for her three ships, her one true friend, the four characters she roleplays as, and her eight gaming consoles. "R-19" stands for "Riza 19" since she was born the nineteenth of February.

GENDER

Female

VOICE RANGE
F#3~B4
RELATED CHARACTERS
Ken Shippai Best Friend/Fellow SHIPloid)
AGE
21
GENRE
Pop/Rock
HOMEPAGE
NONE
WEIGHT
120 lbs (54.4 kg)
CHARACTER ITEM
Messenger Bag
CREATOR
Lizloid& Lasaillax
HEIGHT
5'8" (172.7 cm)
VOICE SOURCE
Lizloid
PICTURE LINK LIST
BIRTHDAY
February 19, 1994
LIKES
Reading, Social Media, Homestuck, Photography, Cooking, Video Games Minecraft).
MEDIA LIST
RELEASE DATE
June 27, 2015
DISLIKES
Spiders, Romance Books, Makeup, Pink, Warm Weather, Nagging People, Mondays.
SIGNATURE SONG
Confront! You Look So Cool!

PERSONALITY: Riza is a very laid back type of person. She has a very odd obsession with photography. She also loves to internet surfer. She hates makeup and she hates when people lash at your face and say they are "hot stuff".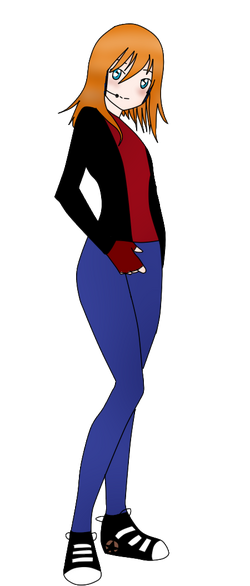 Supplemental Information
Hair color: A burnt orange.
Headgear: A pair of deep blue headphones that represents her friendship with Ken.
Eye color: Teal.
Earphones: NONE.
Dress/Outift: She wears a dark red shirt with a black jacket covering most of it. She wears blue jea
ns with no belt. She wears black converse. She always carries her navy blue messenger bag with her everywhere on her left shoulder. She also wears a pair of dark red gloves to match her shirt.
Nationality/Race: Swedish-American.
Catchphrase: "Sometimes you're forced to be silent. Sometimes you don't like it but you have to deal with it."
Voice Configuration
Riza is a Windows-Based UTAU.Yami's ACT 1 is recorded with a USB PlayStation Eye Camera. She is also recorded in Audacity and minorly edited.
Riza will have more efficient voicebanks in the future.
ACT1: http://www.mediafire.com/download/zascs6t9fwpx9y6/Riza+Naegi+%E3%83%AA%E3%82%BA%E8%8B%97%E6%9C%A8+CV-ACT+1.zip
Usage Clause
This article is written and certified true and correct by the author of the character. The details seen here may be subject to change without prior notice.
Ad blocker interference detected!
Wikia is a free-to-use site that makes money from advertising. We have a modified experience for viewers using ad blockers

Wikia is not accessible if you've made further modifications. Remove the custom ad blocker rule(s) and the page will load as expected.