ROARII 

ロリー

 ALIAS:

ロリー

NAME INTERPRETATION: 糖音 (Roarii; It's silly somewhat- but basically made '"roar" into a name.  Also another form of "Rory")

TYPE: UTAULOID MODEL: PR-01 (Project Roar, #01)

GENDER
 Female
VOICE RANGE

 E3~G4

RELATED CHARACTERS

WIP

AGE
 Stationary  16
GENRE
 Any
HOMEPAGE
 pomegranate-roar
WEIGHT
 102lbs  [46.2kg]
CHARACTER ITEM

 A stuffed cat,  microphone,  pomagranate.

CREATOR
 s33a
HEIGHT
 5'3"  [160.02cm]
VOICE SOURCE
 imjustanmmdcat (Formerly KitsuyeoNAna)
PICTURE LINK LIST

 (Other art can be  found  on her  tumblr.)

BIRTHDAY
 June 29th  2013.
LIKES

 Music, cats,  clothing, and any  food.

MEDIA LIST
RELEASE DATE

 NOT  RELEASED  YET!

DISLIKES

 Silence! 

SIGNATURE SONG

 WIP

PERSONALITY: WIP
ARTWORK:
REFERENCE SHEET:                                                          PEICES: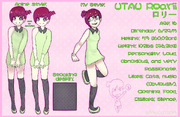 TERMS OF USE:
Do not claim Roarii as your own.You may use her for any of your means as long as you do not claim to own her.No editing the bank without permission.No roleplaying out of terms with the character.Do not edit the character's design.Roarii © PR and s33a 2013
DOWNLOADS:
VOICEBANKS: (COMING SOON)
MODELS: (COMING SOON)
Ad blocker interference detected!
Wikia is a free-to-use site that makes money from advertising. We have a modified experience for viewers using ad blockers

Wikia is not accessible if you've made further modifications. Remove the custom ad blocker rule(s) and the page will load as expected.