ROBIN CAFE

 

NAME INTERPRETATION:
Chosen by the creator on a whim.

TYPE: Mixloid

MODEL: α-01

GENDER
Female
VOICE RANGE

'freq avg : '263.0 Hz (C4)

RELATED CHARACTERS

N/A

AGE

16

GENRE

Any, rock reccomended

HOMEPAGE
WEIGHT
195 lbs
CHARACTER ITEM
Black Tea
CREATOR
MxMyaku
HEIGHT
5'7"
VOICE SOURCE

MxMyaku

PICTURE LINK LIST
BIRTHDAY
October 5th, 1998
LIKES
Tea with honey in it, blankets, horror movies
MEDIA LIST
RELEASE DATE
October 5th, 2013
DISLIKES
Hot days, pollen, people mistaking her for a boy.
SIGNATURE SONG
N/A
PERSONALITY: Robin is a very laid back person, usually letting nothing worry her. She has a live and let live additude on life, and tends to not meddle in others business unless asked. However, if you interupt or bother her too often, you'll likely end up with her seething and sneering at you. It takes a lot to get to that point, however.
Supplemental Information
Hair color:
 Blue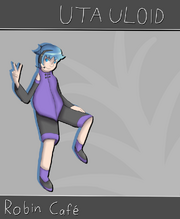 Headgear: Black headphones attatched to a headband. However, only one side has an ear piece.
Eye color: A similar blue to her hair.
Dress/Outfit: A purple shirt with an odd high collar concealing her neck, black detatched sleeves with purple trim, black shorts with purple trim, short purple socks, and black slip on shoes.
Nationality/Race: American.
Voice Configuration
Robin's voicebank is a romaji-encoded CV voicebank with hirigana aliases. Her Act 1 can be downloaded here, and her Act 2 is in development currently.
 This article is written and certified true and correct by the author of the character. The details seen here may be subject to change without prior notice.
Ad blocker interference detected!
Wikia is a free-to-use site that makes money from advertising. We have a modified experience for viewers using ad blockers

Wikia is not accessible if you've made further modifications. Remove the custom ad blocker rule(s) and the page will load as expected.