Ad blocker interference detected!
Wikia is a free-to-use site that makes money from advertising. We have a modified experience for viewers using ad blockers

Wikia is not accessible if you've made further modifications. Remove the custom ad blocker rule(s) and the page will load as expected.
ROBOTSU CHIHARU


(Japanese: 千春 ロボツ - ちはる ろ ぼつ - Chiharu Robotsu)

NAME INTERPRETATION:
Chiharu is suppose to mean "One Thousand Springs" (Chiharu Robotsu; I dunno)
Robotsu because he is a Robot :3

TYPE: Pockyloid - (PockySensei's UTAUs)
MODEL: 00 - (Hes a Pockyloid, but he dosnt have a model type)
GENDER
Male
VOICE RANGE
UNKNOWN
RELATED CHARACTERS
Black Soul (A mischievous evil Soul that likes to follow Robotsu around, Robotsu calls him a "Friend")
AGE
Unknown
GENRE
UNKNOWN
HOMEPAGE
Pockyloid
WEIGHT
245 lbs (111 kg) (He's a robot)
CHARACTER ITEM
Black Soul (A black floating soul that follows him around lots)
CREATOR
PockySensei
HEIGHT
5'3" (160 cm)
VOICE SOURCE
UNKNOWN
PICTURE LINK LIST
CONCEPT ART, ロボツ PIAPRO, ロボツ&s_mode=s_tag PIXIV, DEVIANT ART, GELBOORU, ロボツ GOOGLE IMAGE, PHOTOBUCKET
BIRTHDAY
UNKNOWN
LIKES
He dosn't know what emotion is
MEDIA LIST
ロボツ NICO NICO DOUGA, ロボツ%22 YOUTUBE
RELEASE DATE
UNKNOWN
DISLIKES
He dosn't like or love but he can dislike or hate alot of things
SIGNATURE SONG
Melt

PERSONALITY: He dosn't understand the world, He is a very bored and stubborn boy. He dosnt understand why girls like him and call him a weird human word "cute", and boys confuse him for a human called "female". He is a genius, he knows what everything is, but he feels lonely when "Black Soul" is not around, but is anoyyed when he is. He dosnt dress himself, His creator Pocky sensei created him. Therefore, He dosnt dress himself, Pocky sensei does.

BLACK SOUL: Black Soul is a soul, He is a soul that was suppose to enter Robotsu when he took his first steps as artificial life, Robotsu didn't like him, so Robotsu told him "You can stay but Stay out of me!" Black Soul AKA, "Soul" told him it was just a minor thing. Soul was suppose to enter him so he can really understand the "Human Ways" but since Robotsu didn't like Soul, Soul just tells Robotsu what human feelings are. Since Soul never merged with Robotsu he is now confirmed as a Evil soul, Therefore "Black Soul".
(Note: Black Soul can take the form of a human but is still just Soul. Black Soul is a idot because he wasnt suppose to tell Chiharu about the Emotion thing.)
Supplemental Information
Hair color:Lime Green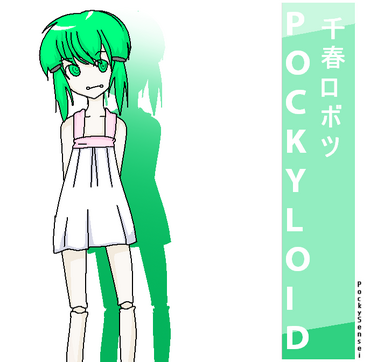 Headgear:
Eye color: Lime Green
Earphones:
Dress/Outfit: White sundress with pink straps, School Uniform
Others: Black Soul
Nationality/Race: Robot

Voice Configuration
Normal VB - ACT1 - Download Here Soft Append - ACT1 - Download here
Sounds best when at G-10
This article is written and certified true and correct by the author of the character. The details seen here may be subject to change without prior notice.