Roosaamu

(Japanese ろおさあむ - Roosaamu.)

NAME INTERPRETATION:

Roosaamu is half Finnish and half Japanese. Her original name is actually from a Finnish language, with Roosa meaning rose and Aamu meaning morning. Being put altogether, her name means morning rose.

TYPE: UTAULOID

MODEL: R-SA

GENDER
Female
VOICE RANGE

A3~G4

RELATED CHARACTERS

e-CH0
(Older Cousin)

AGE

15(official age)

GENRE
Any
HOMEPAGE

N/A

WEIGHT
45kg
CHARACTER ITEM
Red Rose
CREATOR
HEIGHT / MEASUREMENTS
162/155cm (with/without her boots)
VOICE SOURCE
Jasmin
REFERENCES
GOOGLE IMAGES | DEVIANTART
BIRTHDAY
16 August
LIKES
Traditional Clothes, Japanese Masks, Roses, Comedy Anime
MEDIA LIST
YT | SC | NND
RELEASE DATE
16/08/2014
DISLIKES
Romantic Shows, Ducks
SIGNATURE SONG
N/A

PERSONALITY:Roosaamu appears as a young lady brimming with confidence and passion in singing, yet actually she often feels awkward and out of place. She's very relieved that she has a natural poker face to hide her nervousness.

She usually spends her free time watching comedy anime shows like gintama and barakamon, so she tend to spill out one or two comedy lines out of her mouth unconsciously, and later on getting really embarrassed if someone else responded to it.
Character Design
Hair color:
 Light Purple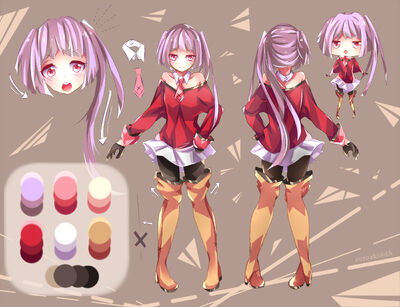 Eye color: Pink
MMD Model
Voice Configuration
Roosaamu's voice is by default, encoded in Romaji and with Hiragana aliases.

VB Download : Tripitch VCV | | CV
(Extra Note: If you found any errors on her bank, please delete the frq files and re-render it. If that doesn't solve the case, please contact me. Thank you!)
Recommended resampler :
- TIPS / VS4U
Best flags so far : Y0B0C99 
Genderbend
N/A
Extra Character Relation
N/A
Trivia
- She hates romantic movies and ducks to the point that she would get goosebumps upon hearing it.
- She often gets mistaken as e-CH0's little sister instead of cousin.
- She usually brings her rose everywhere with her, which explains why she always wear gloves to avoid being cut.
- She enjoys singing as she said that it pleases the roses.
- She insist on using the breast-binding method to make her body look 'less mature'.
Usage Clause
Do not change any appearances that already be given out unless there is changes that have been made by the creator.
Please do not pitch the voicebank.
Allowed to be used freely, but not for commercial use.
Do not steal the character / voicebank.
Do not violate any rights or copyright policies using this character.
Please don't edit this page without Suzuya's permission. Thank you.
Ad blocker interference detected!
Wikia is a free-to-use site that makes money from advertising. We have a modified experience for viewers using ad blockers

Wikia is not accessible if you've made further modifications. Remove the custom ad blocker rule(s) and the page will load as expected.