ROXILYN (ROXY) RAVEN


(Japanese: - ロキシーのレイヴン - Roxy Raven)

NAME INTERPRETATION:
カラス (Raven

) -

Raven Hybrid
ロキシー (Roxilyn) - Just her first name
TYPE: CHROMAdroid
MODEL: MURAdroid
GENDER
Female
VOICE RANGE
C3 and higher
RELATED CHARACTERS

(Singing partner)

(Brother)

AGE
19
GENRE
Anything Really
HOMEPAGE
WEIGHT
180 lbs
CHARACTER ITEM

A shovel

CREATOR
HEIGHT
4'11"
VOICE SOURCE
Aoba
PICTURE LINK LIST
BIRTHDAY
November 19
LIKES
Sunflower Seeds, snow, company, writing
MEDIA LIST
YOUTUBE
RELEASE DATE
October 20, 2011
DISLIKES
Her heritage, cats, being bossed around, being sad
SIGNATURE SONG
none?
PERSONALITY: Roxy is a prissy, rich girl who came from a royal family of harpies. She gets very rude, but is very nice once you get to know her.
Supplemental Information
Hair color:
Grey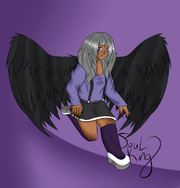 Eye color: Purple
Clothing: -------------------------------------------------------------------------------------------->
Nationality/Race: Raven Harpy
Voice Configuration
Voicebanks for download:
Roxy Raven ACT1 http://www.mediafire.com/?1ga6k1j0chnz12x
Roxy Raven ACT2 http://www.mediafire.com/?n2t3axyty7an6f2
Roxy Raven ACT3 http://www.mediafire.com/download/drq491dbyjs7t6o/Roxy+ACT3.zip
Roxy Raven ACT3 2014 Update: To Be Released
If there are any problems with the voicebank, please let me know.
Anyone can use Roxy, as long as they follow basic UTAU guidelines.
If you want to: Show Soul any work with her in it.
Ad blocker interference detected!
Wikia is a free-to-use site that makes money from advertising. We have a modified experience for viewers using ad blockers

Wikia is not accessible if you've made further modifications. Remove the custom ad blocker rule(s) and the page will load as expected.