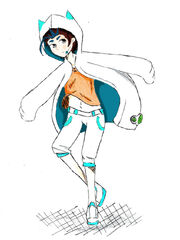 STELOID 

Japanesse(すてろいど -Suteroido)

TYPE: ENGLOID,JAPALOID

FUTUROID( Part of "The FUTURE Project")

Model:1.0

Name Interpretation

Ste(Steven)

Loid( Often used when refering to a Utau Loid or Vocaloid that was made from an original singer)

GENDER

Male

VOICE

RANGE

Unkown

RELATED

CHARACTERS

ADALOID(FellowFUTUROID)
AGE

15
GENRE
Since STELOID was released with both a SOFT and STRONG CV Bank he has the ability to have diferent genres
HOMEPAGE

His HOMEPAGE

will be released with both ADALOID(FUTUROID)and STELOID Together.

Weight
120lbs
CHARACTER ITEM
Ramen and or White Cats
CREATOR

Hochii Hayane( Illustrator)

The FUTURE Project( Producer )

CHIYOCHANN( Voice Provider and part of "The FUTURE Project) 

Height
5'4"feet
Voice Source

CHIYO CHAN(Mostly know as Amed Diaz Being part of "The FUTURE Project"(A group of Producers)

He colllaborated with the voiceing of STELOID

PICTURE LINK LIST

All of the materials related to STELOID and other FUTUROID UTAUs will be posted at their HOMEPAGE
BIRTHDAY
  Jun 10, 2013
LIKES
Anithing thaat is colorfull or white
MEDIALIST

All of the

material

related to STELOID

will

begiven

to Public 

in the official homepage

RELEASE

DATE

JUNE

9

DISLIKES

Everything

that is black or dull

SIGNATURE

SONG

Still in process
 PERSONALITY:  STELOID is a very hopefull and a confident individual. Not liking the fact that everything allways has to finish he tries to strech everything as much as he can. He likes being around snowy areas and loves to drink tea.
OTHER INFORMATION:
Hair Color: He has brown hair with Blue raised up bangs. STELOID has blue eyebrows.
Headgear: A little wireless michrophone on the right ear
Eye Color: STELOID has Hazel eyes ( More grey then actually hazel)
Clothing: He wears a white and mint XL jacket with little cat ears on the hoodie. His pants are White shorts with some mint colored details. On the right side of the jacket he has a little disk player.
Additional info: His actual hair color is blue but he dyes it brown.
NATIONALITY: American/Japanesse\
Personal Phrase: "Oh my"...And also " What the What now?"
STELOID is often Known as an very energetic ELECTRO boy.
VOICE CONFIIGURATION
STELOID was Processed first by many of our "The FUTURE Project" Producers and recorders, though very fiew were to make a good job. He was recorded 10 times, ten diferent voice banks all in CV for Romanji form. There was a WHISPER, BETA,POWER,SHOUT,NORMAL,ACT 1and2,STRONG, SOFT and an ENGLISH Bank. Some of them are still being processed Like the ENGLISH CV BANK but others were declared as a failure like the BETA( It is  still available for free trial) SHOUT and ACT 2. It was Decided that the First Voice Banks to be released were going to be the SOFT and the STRONG because they were the most closest to being finished completely. In the future there will be a release of the ENGLISH voice bank for STELOID wich is right now in processing for UTAU.
USAGE
Please read the following rules of the usage of STELOID
ALL THE RULES APPLY TO ALL THE STELOID VOICEBANKS
PROHIBITION
Using the voicebanks in the way to cause damage and/or loss to third person/party, to induce criminal behavior and/or to constitute criminal act is strictly forbidden.
The FUTURE Project and any of the producers IS NOT responsible for the act and/or Incidents that happen when using the voice bank.
SEXUAL EXPRESSION
Is not limited as long as cautionary statements are written and the measures not to be navigated on the Internet are taken according to the circumstances
POLITICAL EXPRESSION
IT IS STRICTLY FORBIDDEN
RELIGIOUS EXPRESSION
IT IS FORBIDEN, UNLESS it is for some kind of well-known song.
GROTESQUE/ or VIOLENT EXPRESSION
Is not limited as long as cautionary statements are written and the measures not to be navigated on the Internet are taken according to the circumstances
COMERCIAL USE
This is forbiden. Make sure You contact the faculty in advance for further info  and the discussion wether it can be used or not.
REDISTRIBUTION
The redistribution is is not permited unless you credit to the source of origin.
DOWNLOAD SITE.
The VOICEBANK will be available to download  in :http://www.youtube.com/user/starstruc5  
Please PM(Private message) this site for info and or both the Download of the SOFT and the STRONG voice bank.
The downloads  will be given here until the  HOMEPAGE is being created and processed
Ad blocker interference detected!
Wikia is a free-to-use site that makes money from advertising. We have a modified experience for viewers using ad blockers

Wikia is not accessible if you've made further modifications. Remove the custom ad blocker rule(s) and the page will load as expected.