SAKI OSHIRO


(Japanese: 御城さき)

NAME INTERPRETATION:
御城 (Oshiro; Castle)

さき (Saki; Blossom)

TYPE: NONE
MODEL: NONE
GENDER
Female
VOICE RANGE
E3 - G5
RELATED CHARACTERS

Onsei Mashin (Friend)

Chatter (Friend)

Lyra Winter (Friend)

AGE
16
GENRE
Pop, techno, rock
HOMEPAGE
NONE
WEIGHT
122 lbs (55 kg)
CHARACTER ITEM
Scepter
CREATOR
Emzilla
HEIGHT
5'3" (160 cm)
VOICE SOURCE
Emzilla
PICTURE LINK LIST
CONCEPT ART, PIAPRO, PIXIV, DEVIANT ART, GELBOORU, GOOGLE IMAGE, PHOTOBUCKET
BIRTHDAY
May 22
LIKES
Candy, cake, chocolate, rainbows, magic, stars, singing, dancing
MEDIA LIST
NICO NICO DOUGA, YOUTUBE
RELEASE DATE
[TBA]
DISLIKES
Creepy people
SIGNATURE SONG
Alien, Alien
PERSONALITY: She is the very friendly, cheery, outgoing type. People know her for her laugh, which is very unique to her, and makes people laugh with her. She can be a bit loud, but people find it endearing and are very interested by her stories of where she comes from.
Supplemental Information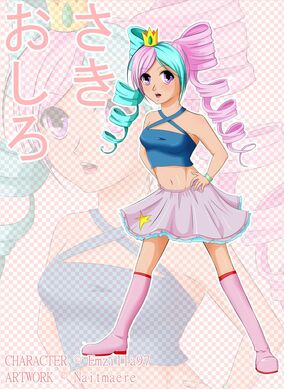 Hair: Typically worn in twin-drills, the right half of her hair is pastel blue, while the left is pastel pink. Her corresponding bangs alternate these colors.
Headgear: Saki can often be seen wearing a gold crown with an emerald at its center.
Eye color: Lilac
Earphones: Her headphones feature a royal crown design on the earpieces, and are cerulean and magenta in color.
Dress/Outfit: Saki is typically portrayed wearing a cropped, cerulean halter top, and a pastel blue and pink skirt. Her boots are knee-high, and pink with red soles and lining. Mint green bangles are typically worn on both wrists.
Others: [N/A]
Nationality/Race: ???/Alien

Voice Configuration
ACT1[CV] - This bank is currently being re-recorded. Release date is unknown.
Voice Description: [TBA]
Recommended Resampler: [TBA]
Recommended Flags: [TBA]
Pros- [TBA]
Cons- [TBA]

This article is written and certified true and correct based on verifiable information of the character. The details seen here may be subject to change without prior notice.
Ad blocker interference detected!
Wikia is a free-to-use site that makes money from advertising. We have a modified experience for viewers using ad blockers

Wikia is not accessible if you've made further modifications. Remove the custom ad blocker rule(s) and the page will load as expected.