SAKKAKU KOE


(Japanese: 錯覚 - こえ)

NAME INTERPRETATION:
錯覚  (Sakkaku) - Illusion

こえ (Koe) - Voice

TYPE: NONE
MODEL: NONE
GENDER
Male
VOICE RANGE
UNKNOWN
RELATED CHARACTERS
Kyomen Koe (Older Brother)
AGE
12
GENRE
UNKNOWN
HOMEPAGE
Sakkaku Koe
WEIGHT
83 lbs (37.8 kg)
CHARACTER ITEM
Banana
CREATOR
speacario
HEIGHT
4'9" feet (145 cm)
VOICE SOURCE
スペカリオ
PICTURE LINK LIST
CONCEPT ART,
BIRTHDAY
March 2, 2001
LIKES
Cat,Melonpan,Cheese,Pizza, Ramen,Parakeet,Sushi
MEDIA LIST
NICO NICO DOUGA, YOUTUBE
RELEASE DATE
June 29, 2013
DISLIKES
Outdoor activities,Books, Boats
SIGNATURE SONG
NONE
PERSONALITY: Likes to play pranks on people,kind hearted and very easy to get along with but he is very short tempered.
Character Design
Hair color: Blue c: Eye color: Black Outer shirt: Brown
Inner shirt: Red
Pants: Dark BLUE C:
Nationality: Malaysian-Japanese
Voice Configuration
Sakkaku Koe's voice is encoded in Romaji AND Hiragana.
Voicebank can be downloaded from : Here
Extra Character Relation
Kyomen Koe (Elder Brother) [voicebank has not been made]
Concept Art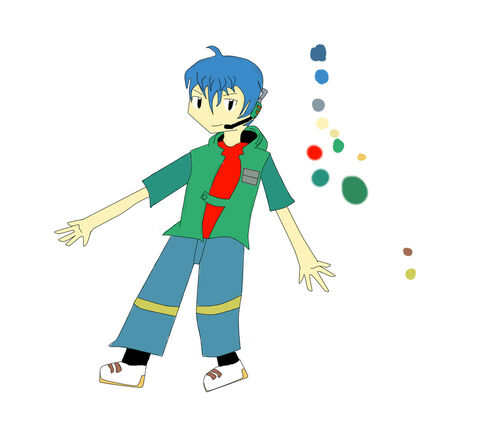 Facts
Loves to eat bannanas!
Very shy espicially talking with girls.
He dislikes boats (and other water transportation) due to seasick.
He is obsessed with ramens.
Usage Clause
Do not change any appearances that already be given out unless there is changes that have been made by the creator.
Avoid any mary-sues.
Please DO NOT pitch the voicebank.
Allowed to be use freely.
Ask for permission first if need to use the name for a Role Play.
Certified true and correct from Koe's creator Please do not change anything here without Sakkaku Koe's creator or Admin's permission.
Ad blocker interference detected!
Wikia is a free-to-use site that makes money from advertising. We have a modified experience for viewers using ad blockers

Wikia is not accessible if you've made further modifications. Remove the custom ad blocker rule(s) and the page will load as expected.