Ad blocker interference detected!
Wikia is a free-to-use site that makes money from advertising. We have a modified experience for viewers using ad blockers

Wikia is not accessible if you've made further modifications. Remove the custom ad blocker rule(s) and the page will load as expected.
First Name: Saku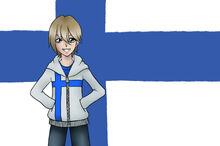 Last Name: Lehmus (Means Linden in English)
Nationality: Finnish
Age: 10
Height: 137 cm
Gender: Male
Personality:Cheerful, hyperactive, unmature, a bit rude and annoying sometimes, honest, stubborn, a little bit too confident about himself.
Relationships: Cousin of Shiki Kio and Shiki Sakuya (but not related to Shiki Momoka)
Character item: Ruispalat (Finnish rye bread)
Dislikes: Mämmi
Birthday: July 29, 2015
Voicer: Kiosa
Playlist: https://www.youtube.com/playlist?list=PLLmulrBLpdCahaXBXJOsdLUbb-YoMYGh2
Voicebank
Download: http://www.mediafire.com/download/llh2uhohaah2q1b/Saku+Lehmus.zip (Oto by Pupuomena )
Trivia
Saku is a nickname my sister gave me. And my last name is "Lindh" that means "Lehmus" in Finnish (and in English it's Linden or something...?)