Ad blocker interference detected!
Wikia is a free-to-use site that makes money from advertising. We have a modified experience for viewers using ad blockers

Wikia is not accessible if you've made further modifications. Remove the custom ad blocker rule(s) and the page will load as expected.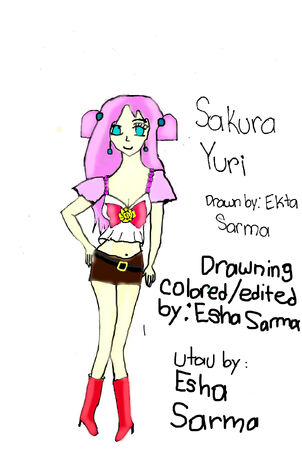 Name meaning:
サクラ (さくら) = Sakura - Cherry blossoms 
百合 = Lilly                                                                         ____________________________________________  
Type: Utau    Code No:  ☮ (unknow place) 02 (in leg)
Made by: Ekta and Esha Sarma
Voice: Ekta Sarma
World Is Mine (MOST RECENT VIDEO)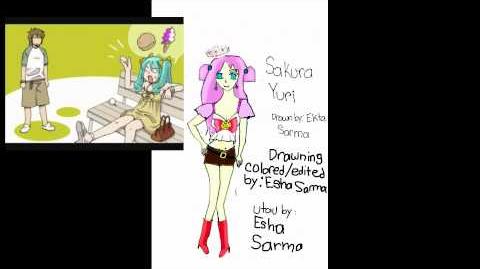 __________________________________________________
Information Listed below:
Gender: Female (:P)
Voice Range: F4
Age: 22
Genere: Pop/Classic/Rock
Weight: 120 lb
Character Item: Lilly and a Sakura Tree Leaf
Height: 5'9" 
Birthday: Demeber 30th 
Likes: Animals, Pets, Flowers, Games, Singing, Songs, Listening to Music, Fashion, Watching anime, and Watching Horror stories on TV.
Favorite color: Pink
Relese date: January 11th, 2014
Dislikes: Pollution, Cats, Demons, Pork.
Code: 012 (UTAU)
Favorite Holidays: Halloween and Christmas
Favorite Food: Pizza and Fruit
Hair color: Pink
Eye Color: Bright Blue
Race: Half American/ Half Japanese
Voice Information:
Sung by: Ekta Sarma
Recored and edited with: Audacity
Sakura can sing High pitched and Low picthed songs. Her specialty is Pop music! Her 1st song isn't made yet! But there are rumers that World Is Mine will be her 1st song!
Usage:
You aren't allowed to claim Sakura Yuri as your own! Don't take this image (but if you want to share it with people that's fine). You also cannot steal Sakura Yuris voice! It's important that you'll give us a request and we'll allow it. Please do not use her for sexual connetent! NO YURI ALLOWED! Making a MMD (Miku Miku Dance)  model is fine. Creating a hologram projection of her is fine! (We'll love it if you show it to us). Thank you :D