SATSU KASUMINE

(Japanese: サツカスミネ  - Satsu Kasumine)

NAME INTERPRETATION:
Satsu-(殺)-To kill  

Kasumine-(霞 ね)-Water sound   *Might be incorrect

"The Killing of the Water Sound"

TYPE: UTAUloid
MODEL: S-05
GENDER

Male

VOICE RANGE

C4

RELATED CHARACTERS

Satsuki Kagene  (child hood friend, likes to abuse him/secret crush)          

Himeka Kagene  (child hood friend, best buddy/ idol)  

AGE


14

GENRE

Classical rock, but other songs are fine too. 

HOMEPAGE
Devianart
WEIGHT


95 lbs (43       kg)

CHARACTER ITEM
Scythe
CREATOR
Emi
HEIGHT


5'2" (163 cm)

VOICE SOURCE
Emi
CONCEPT
Here

BIRTHDAY

UNKNOWN

LIKES

Birds, singing, stuffed animals, cute things, knives, blood, pillows; killing.

MEDIA LIST
NONE
RELEASE DATE


December 20, 2012

DISLIKES
people calling him cute, people complaining about him crossdressing
SIGNATURE SONG
none
PERSONALITY: Satsu usually appears tough and mean, but he's a really nice person. He tends to blush a lot, and gets jealous very easily. Once he's jealous, he might attack or kill the person at which he's jealous of. That makes him a tsundere and yandere. He's quiet most of the time, but sometimes, he likes to act like a princess, and gets very bossy, which makes him a himedere,too. A lot of people think he has crushes on them, because everytime he looks at somebody, his face turns red. He gets mad when people think that. Also, for no specific reason, he can just start killing people, which again, makes him a yangire.
Supplemental Information
Hair color: Dark,dark blue
Headgear: black with white roses
Eye color: light blue
Dress/Outfit: refer to concept art  
Nationality/Race: Chinese/Japanese
Voice Configuration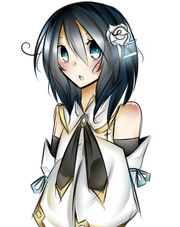 CV VOICEBANK: 
[link]
Some details are based on existing information and usage experience. The details seen here may be subject to change without prior notice.
Ad blocker interference detected!
Wikia is a free-to-use site that makes money from advertising. We have a modified experience for viewers using ad blockers

Wikia is not accessible if you've made further modifications. Remove the custom ad blocker rule(s) and the page will load as expected.