| | | |
| --- | --- | --- |
| |   | Sen-Da Chue Lovits |

ALIAS: None

TYPE: TEAM SHIZUN
MODEL:

GENDER
None
VOICE RANGE
G2~D#4
RELATED CHARACTERS

Older Sister

Friend/ Honorary brother

Friend(?)

Feminine counterpart

AGE
19
GENRE

Any

HOMEPAGE

N/A

WEIGHT
138
CHARACTER ITEM

Dumplings

Chinese straight sword

CREATOR
IzuiII
HEIGHT / MEASUREMENTS
5'1"
VOICE SOURCE
IzuiII
PICTURE LINK LIST
DA
BIRTHDAY

January 29th, 1997

LIKES

Most any candy

Foreign weapons

'Most anime/manga types/'Action-Adventure games (JJBA and .hack// especially)

Setting fire to your house

MEDIA LIST
Youtube
RELEASE DATE
January 12, 2013
DISLIKES

Spicy foods (they like the taste, just not the heat)

Rap music

Gangster wannabees

people who dare mess with their Sister

Racists

People who say "seen" instead of "saw"

SIGNATURE SONG

NA

PERSONALITY: Sen-Da is the youngest of Team Shizun and is rather dimwitted

Though Sen-Da often looks meek they are actually rather outspoken and mischevious

As a child Sen-Da grew up in China living with "his" mother. One day he just couldn't deal with her crap anymore and moved in with Poi and Rei




People often say Sen-Da lacks common sense, is too blunt for their own good, or just has no filter. They aren't afraid to pass through people's personal space and cop a feel on their guy friends. Sen-Da enjoys reading manga online, watching LPs', playin das vidjo games, sword play, fire, anime, posing.




he hates things being quiet. pisses 'em off.




When he grew up in china he often spent time doing the same stuff he does now in america, but now he has video games. did you know video games are illegal in china? trippy, right? they have several friends back in his homeland which he often thinks about but then remembers, he has skype, so yeah. Sen-Da can get really anal about stuff really easily, over protective about anything he owns (freaks out when other people touch "his" stuff) and is often scolded by Rei and Poi for his over-sensitivity and assholishness
History
When he was a baby his mother and him lived in America for 4 years. when he was of this age his mother was on some serious crap. Poi took care of him even though she was a child too. as soon as his mother found out that her husband was cheating she divorced him and moved back to her own country.  
he wasn't too popular in school because of his affinity to Japanese media (that's a no-go in his country, dontcha know) and due to this he was often beat up. after several years of this he took up in-home-karate to learn how do defend himself, this of course, didn't work because of his build. when they got of age they moved away from his homeland to the U.S. with Rei and Poi.
Relationships
Sen-Da is rather cocky in the Utau Community because he knows four languages, of course two of those voicebanks haven't been recorded yet (Chinese is hard! TxT) his friends consist of Trei, Rei, Po, Poi, possibly Sin-Ga, Kyuu(?), Kuota, Chisami, Mai, Mirakuru Mirakuroid, and Muchi
Supplemental Information
Occupation: NEET
Hair color: White-pink-pomegranate
Headgear: None.
Eye color: Lavender
Earphones: None, their ears don't make wearing headphones easy
Underwear: Black Boxers with a Pink butterfly of the Crotch
Accessories: Glowing Bulla Tie, and Glowing Hair band
Nationality/Race: Chinese-American

Voice Configuration
Sen-Da has a naturally deep voice that isn't suited to all songs. He is the masculine counterpart of Sin-Ga
SUPERNOVA - NEBULA (SOON)
MMD
Relationships
Poi: He loves his sister Poi with all his heart and soul and would gladly do anything for her and Rei.
Rei: Sen-Da views Rei as an older brother and a rival in singing because of his deeper voice
Kyuu: He has a perplexing time with Kyuu, he finds Kyuu hot as hell but thinks it'd be weird to pursue him.
Po: Po is like a partner-in-crime to Sen-Da. He enjoys mischief and martial arts, so they get along well
Trei: Sen-Da thinks she's pretty cool/neat and enjoys gaming with her
Sin-Ga: He REALLY wants to be friends with Sin-Ga, but he kinda has to watch out for flying knives  and decapitating scythe throws
Usage Clause
Usage Rule of Sen-Da
The rules below are for the character and the UTAU voicebank Sen-Da
Every rule applies to both the character and the UTAU voicebank Sen-Da
1. Authorization
Users shall be deemed to have read and agreed to the paragraphs and the articles below when using Trei.
Do not use Trei to violate laws and ordinances and/or promote actions which violate laws and ordinances.
Do not use Sen-Da in anyway that compromises her character
Do not use Sen-Da to slander and/or insult third person/party.
Do not impersonate the creator of Sen-Da
Do not sell the voicebank and/or the character Sen-Da commercially.
Make sure to write the name Sen-Da onto your work when using this voicebank and/or character.
2. Discharge
The creator(s) shall not hold any responsibility to incidents and losses when using the voicebank and/or the character Sen-Da
Use this voicebank and/or character at your own risk.
3. Prohibitions and Reminders
a) Political expression
Is not limited. However, the utilization which violates usage rule above is forbidden.
b) Religious expression
Religious expression which promotes a certain religious group is forbidden.
c) Sexual (NC-17) expression, grotesque and/or violent expression
Is not limited as long as a cautional statements and tags are written properly.
d) Posting onto PIAPRO
Do not post Trei onto PIAPRO. (PIAPRO is for Vocaloids which are distributed by and the derivative characters approved by Crypton only.)
The author(s) does not hold any responsibility to incidents caused by violating this prohibition.
4. Modification and Redistribution of the Voicebank

No limitation is imposed on modifying the voicebank. (e.g. noise reduction and pitch manipulation)
No limitation is imposed on resetting parameters.
Redistribution of this voicebank is Fine as long as you notify http://izuiii.deviantart.com/ first
Redistribution of the edited/modified voicebank is forbidden without permission
Sen-Da's Media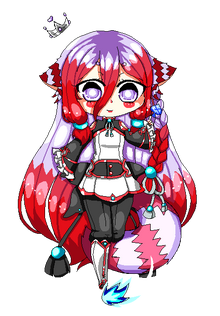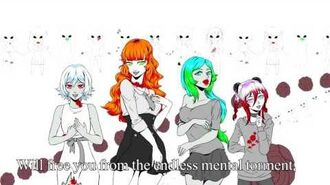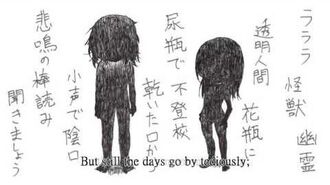 Ad blocker interference detected!
Wikia is a free-to-use site that makes money from advertising. We have a modified experience for viewers using ad blockers

Wikia is not accessible if you've made further modifications. Remove the custom ad blocker rule(s) and the page will load as expected.