Shizuka Hyuga


(Japanese: 

しず

か ひゅが

 Shizuka Hyuga)

NAME INTERPRETATION:
しずか (Shizuka) - No real meaning.
ひゅが (Hyuga) - Has no meaning. (It is not related to Naruto at all.)

TYPE: UTAUloid
GENDER
Female
VOICE RANGE
Unknown
RELATED CHARACTERS
AGE
17
GENRE
Any
HOMEPAGE
WEIGHT
52Kg
CHARACTER ITEM
Nothing
CREATOR
Chatango
DeviantART
YouTube
HEIGHT / MEASUREMENTS
5'6.7 
VOICE SOURCE
ShizukaHyuga
PICTURE LINK LIST
BIRTHDAY
July 9th
LIKES
Slacking off, and eating.
MEDIA LIST
RELEASE DATE
August 19th 2013
DISLIKES
Bugs
SIGNATURE SONG         
PERSONALITY: 
Lazy and no motivation would be the two best things to describe this UTAU.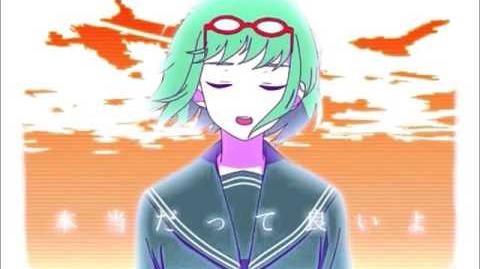 Character Design
Hair color: Light Blue (In a ponytail)
Eye color: Light Blue
Shirt: Purple Kimono top with a purple belt
Shorts: Black shorts with a purple belt 
Shoes: Just below the knee boots with a purple top
Other: Pointy ears.
Breast size: C.
Voice Configuration
Working on a new voicebank.

Romaji (this will be removed when I finish the next vb)
She should have 99.7% of the syllables required for any song. (She doesn't have kw- and gw-)
Download: Romaji VB Download

Facts
She's lazy.
Procrastinates a lot
She's really sassy and blunt, but for some reason people tend to think she's joking.
Usage Clause
Please don't change her design unless just clothing for a specific song.
Please don't use her for song that promote racism, violence, etc.
I would prefer if no one roleplayed as her.

This article has been written by the creator of Shizuka Hyuga.
Please do not change any info unless you are fixing a grammar mistake, then it's fine.
Concept Art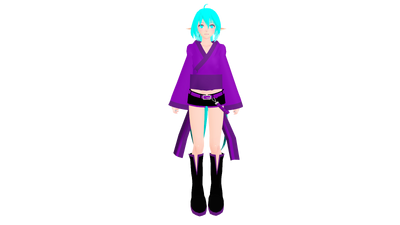 Ad blocker interference detected!
Wikia is a free-to-use site that makes money from advertising. We have a modified experience for viewers using ad blockers

Wikia is not accessible if you've made further modifications. Remove the custom ad blocker rule(s) and the page will load as expected.