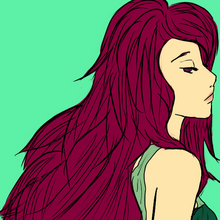 ==Shouko Sasaki==

(Japanese: 証拠 佐々木)
NAME INTERPRETATION: Shouko ( 証拠) "evidence". Sasaki (佐々木) is the 14th most common Japanese family name. Notable people with the surname include.
Disclaimer:
UtArtloid 04 ''''(VocArtloid) MODEL: ''''''07 '''- the "07" signal on her right breast.
GENDER
Female
VOICE RANGE
C4-F4

RELATED

CHARACTERS

AGE
17
GENRE
Pop, Rock, Electronic...
HOMEPAGE
DA GROUP
WEIGHT
55 kg
CHARACTER ITEM
White cat
CREATOR
JashinRei
HEIGHT
165 cm
VOICE SOURCE
JashinRei
PICTURE LINK LIST
Deviantart
BIRTHDAY
13.Marc
LIKES
boys, Hiro, singing, animals
MEDIA LIST
RELEASE DATE
06. August. 2014
DISLIKES
lying, onion, pepper
SIGNATURE SONG
Children's war
Character Design[1]
Hair color: long and curly, dark red-purple hair.
Eye colour: purple.
Nationality: Hungary
Catchphrases[2]
"Reika protect me!"
"I noticed you!"
"Hahaha~"
"Shut up!"
"Don't be rude!"
Voice Configuration[3]
UPCOMING VCV bank! She still singing in Japanese now.
If you want her voicebank, please send me an e-mail here: jashinrei@gmail.com /or contact me on Twitter
Extra Character Relation
Usage Clause
Do not change her design unless just clothing for a specific song.
Please DO NOT use any other pitches than has been given in the info above.
If you use it, then please show me *3*
Ad blocker interference detected!
Wikia is a free-to-use site that makes money from advertising. We have a modified experience for viewers using ad blockers

Wikia is not accessible if you've made further modifications. Remove the custom ad blocker rule(s) and the page will load as expected.