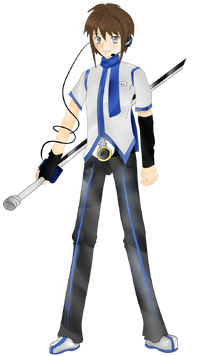 Silver Risago is an updated version of
Risago Suruke
His name interpretation is:
Silver: The Silver color
Risago: Alias of the creator
He is shy, quiet, easily distracted and very intelligent.
Gender
Male
RELATED CHARACTERS

Gold Amy (female counterpart)

Sake Kawaita (friend)

Riki León (friend)

Yuki (friend)
Shouji Hitoshi (friend)

Haruhiko Michea (friend)

Kaotik (friend)

Age
18
BIRTHDAY
May 1
LIKES
Drawing, pokémon, videogames.
Colours
Black, White, Blue
Animal
Polar Bear
Group
Wild UTAU
Accesories
Scraf, gloves
Web page
SilverUTAU
Languages
Spanish, Japanese, Korean and English
Voice DL
Videos
Supplemental Information
Hair color: Brown
Headgear: None
Eye color: Silver.
Earphones: Black and blue, The blue part shine.
Dress: Blue and white shirt, Black pants, the blue lines in the pants shine and white shoes.
Nationality/Race: Mexican
Sounds Better With BR0
Images
Ad blocker interference detected!
Wikia is a free-to-use site that makes money from advertising. We have a modified experience for viewers using ad blockers

Wikia is not accessible if you've made further modifications. Remove the custom ad blocker rule(s) and the page will load as expected.