SILVIA
NAME INTERPRETATION: Kagami - Mirror
Silvia:- A female name used in the western part of the world (U.K, U.S etc..)
TYPE: Annoyloid (Looks up to Kagami Kawaiine)
MODEL: 1601 (Date she was added to wiki)
GENDER

FEMALE

VOICE RANGE
UNKOWN
RELATED CHARACTERS

N/A

AGE
5
GENRE
ANY
HOMEPAGE
NONE YET
WEIGHT

2 kg

(2000 g)

CHARACTER ITEM
Sugar
CREATOR
Littletweet
HEIGHT/ MEASUREMENTS
4"2
VOICE SOURCE
NONE YET
PICTURE LIST
TO BE LISTED
BIRTHDAY

Birthday - 29th February 2007

LIKES
Anything sweet
MEDIA LIST

YouTube Account

RELEASE DATE
????
DISLIKES
Rain
Signature Songs
Bacterial Contamination
Personality: A meek child who doesn't question authority. Being too obedient turned her into a tell-tale brat whilst her peers grew to dislike her. Nonetheless, her heart tends to be in the right place.
Template documentation
(for the above template, sometimes hidden or invisible)
Supplemental Information
Hair color: Silver- Lavender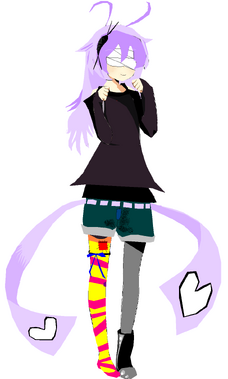 Headgear: A silverfish that lives in her hair and antenna
Eye Color: Because of her silverfish hybrid, she is eyeless, having a bandage to cover them.
Dress/Outfit: Long purple shirt that hangs over her shoulders covering a black vest. She wears jean shorts like Rin Kagamine's with a loose purple belt/strings that have cuts shaped like hearts. She wears tights that is yellow and pink striped on the right, and the left leg the stockings are gray. The right leg has a blue ribbon tied near her thigh, whilst the other is the only leg to wear a boot/shoe.
Nationality/Race:- Human and Silverfish
Voice Configuration
Silvia's voicebank requires a provider, until a provider is er...provided then we cant create a voicebank...yet.
Usage Clause
Disclaimer: You are NOT allowed to do any of the following
Claim her as your own
Use her to break any of UTAU'S rules
Use her voice for your own UTAU'S voice
Use her full design in any way (Looking like an EXACT clone, although I can't stop you from making your creation wear the tights, shirt, antenna etc..)
Create a new voicebank of hers without permission
You CAN do the following
Do fan art of her
Use her voicebank (Once created)
Use specific items of clothing from her design for your own characters (But not her full design)