Sol




Japanese:そる
NAME INTERPRETATION:

そる  ("Soru" Sol) is a musical note

TYPE: Utauloid
MODEL: NONE
GENDER
Male
VOICE RANGE
A3-D5
RELATED CHARACTERS
AGE

17

GENRE

Pop

ballades




love songs

HOMEPAGE
NONE

WEIGHT

 35 kg
CHARACTER ITEM
none
CREATOR

Flamingo sama

HEIGHT / MEASUREMENTS
150 cm
VOICE SOURCE
Flamingo sama
PICTURE LINK LIST

http://flamingo-sama.deviantart.com/art/Utau-newcomer-Sol-456226831

BIRTHDAY

22 May

LIKES

-fire

-cute dresses

-cook

-to act cool

-read american comics

MEDIA LIST

Soundcloud




youtube

RELEASE DATE
22 May 2014
DISLIKES

-rude people

-his big sister

-the rain

bugs

SIGNATURE SONG

PERSONALITY:Sol's normally an overly serious kid. he likes to be bossy to others, read and people who pay stuff for

He's also really proud so it's hard for him to accept his mistakes and he always try to act cool like he doesn't really care

Even if Sol is a proud kid he's still very insecure about himself
Supplementar informations
Appearance:Sol is small and thin, he's a crossdresser and he hasen't a masculine body at all
Hair color: light blue
Eye color: ight Fucsia.
Earphones: none.
Dress: Sol has two official outfit, a white simple dress with black buttons
and a more complicate one composed by a light brown cardigan a light pink shirt, a pink skirt, white long socks and a pair of brown flat shoes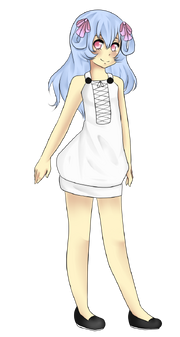 Nationality/Ethnicity: Italian
Voice configuarion and Downloads
Sol has two voicebank, an act1 (cv) and he's going to have soon a vcv
here's his cv
http://www.mediafire.com/download/7aaxm1p8daursds/Sol.rar
his mmd model ( made by Kittykatgirl1234)
http://www.mediafire.com/download/dtpvr9s3zael9t8/Cute.rar
Usage Clause
you must credit if you use Sol or any art related with the creator (flamingo-sama)
Ad blocker interference detected!
Wikia is a free-to-use site that makes money from advertising. We have a modified experience for viewers using ad blockers

Wikia is not accessible if you've made further modifications. Remove the custom ad blocker rule(s) and the page will load as expected.