SANSO SORYUUSHI


(Japanese: 素粒子サンソ - Soryuushi Sanso)

NAME INTERPRETATION:
素粒子 (Soryuushi) - Meaning Particle
サンソ(Sanso) - Meaning Oxygen
TYPE: Human
MODEL: M-03 - ("M" signalising the First letter of the creators name, "03" singalising that it is his third utauloid)
GENDER
Female
OPTIMAL VOICE RANGE
C4-C5
RELATED CHARACTERS
Yuune Sato (Cousin),
Yuune Mito (Cousin)
AGE
30
GENRE
UNKNOWN
HOMEPAGE
Youtube
WEIGHT
45 kg
CHARACTER ITEM
Katana
CREATOR
Marius Alexandersen
HEIGHT
1.75cm
VOICE SOURCE
Eva Alexandersen
PICTURE LINK LIST
Piapro
Pixiv
Deviant Art
Gelbooru
Google
Photobucket
BIRTHDAY
See Release Date
LIKES
Sunsets
MEDIA LIST
Nico Nico Douga
Youtube
RELEASE DATE
10th of August, 2012
DISLIKES
Loud Places, Talkative People, Chewing Noise
SIGNATURE SONG
'ERROR'
PERSONALITY: She has a kind and friendly aura around her, she is calm, well-mannered and helpful. There goes not one moment were she is not smiling. She's a bit of a airhead, but is not dumb either. She enjoys the company of others because of her tendancy to get lonely easily.
Download and Information
Currently supports only Japanese CV.
Encoded in Romaji with Hirigana Alias.
Compressed size of 23MB
Uncompressed size of 38,6MB
Design Art comes with the Voicebank
Frequency avarage: 215,9 Hz (A3)
Number of Samples: 112
Her CV can be downloaded here
Design, Outift
Hair color: Deep-Red

Headgear:
A light-yellow, brown zigzag patterned hair tie, which keeps the hair in a ponytail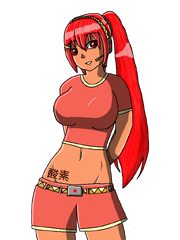 Eye color: Blood-Red
Earphones: Red-tinted, Rectangle shaped earmuff with a red light on the left ear, also a light-yellow brown hard-plastic hairband going over the hair and connects behind the right ear. A red-tinted microphone connected from the earmuff that goes along the skin near the mouth.
Dress/Outfit:
Sanso wears a pale-red, skin-tight, short-armed, rubber-like T-shirt with light-yellow trimming that stops right above her navel. She has a Tatoo on her right hip written in kanji it means Oxygen (which is her given name) She wears shorts with the same colour as the top and trimming. She uses a belt on her shorts, it is light-yellow and brown in a zig-zag pattern with a red-tinted rectangle with a red light. She only uses support bandages as leg wear. She also have support bandages on her hands. She uses two hairpins on the right side of her hair, one light-yellow and the other brown. The hairpins crossing eachother forming a "X".
Nationality/Race: Norwegian/Scandinavian
Sample of Usage
Contacting the Creator
There are a number of ways you can contact the creator, some of them are listed below:
Twitter: @Mariuspersem
Youtube: Mariuspersem
Email: Marius_kule@hotmail.com
This article is written and certified true and correct by the author of the character. The details seen here may be subject to change without prior notice.
Ad blocker interference detected!
Wikia is a free-to-use site that makes money from advertising. We have a modified experience for viewers using ad blockers

Wikia is not accessible if you've made further modifications. Remove the custom ad blocker rule(s) and the page will load as expected.