Ad blocker interference detected!
Wikia is a free-to-use site that makes money from advertising. We have a modified experience for viewers using ad blockers

Wikia is not accessible if you've made further modifications. Remove the custom ad blocker rule(s) and the page will load as expected.
 

SOSUKE MIZUGAMEZA

(Kanji: 水瓶座宗介, アクエリアス ソウスケ - Mizugameza Sōsuke)

NAME INTERPRETATION:
水瓶座 (Mizugameza; "Aquarius")

宗介 (Sosuke; "Clever, Mediate")

TYPE: BARALoid
MODEL: 06
GENDER
Male
VOICE RANGE
 
RELATED CHARACTERS
Cho Tsubasa (Old Friend)
AGE
14
GENRE
Pop, Dance, Electronica, Rock
HOMEPAGE
WEIGHT
160 lbs.
CHARACTER ITEM
Custom Baton
CREATOR
Nexushi
HEIGHT
6'0 (182cm)
VOICE SOURCE

花夢

(Hanayume)

PICTURE LINK LIST
BIRTHDAY
02/10/00
LIKES
Water, Yukata, Dogs, Fans
MEDIA LIST
RELEASE DATE
DISLIKES
Okonomiyaki, Heat, Loudness
SIGNATURE SONG
PERSONALITY: Sosuke is a calm and collected individual. He, however, likes to be the leader of a group and will tend to the groupees. He is reverred as someone who is always quiet (He is also usually alone.)
Supplemental Information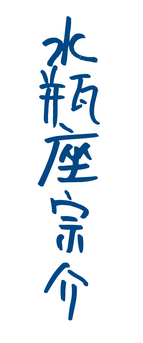 HAIR COLOUR: White
EYE COLOUR: Celeste Blue
HEAD GEAR: NONE
EARPHONES: Ear-bud (takes the form of a hearing aid)
NATIONALITY: Japanese (日本人)
OUTFIT:
FAVOURITE PHRASE: "Are you... going to finish that?"
Voice Configuration
Currently, there is no configuration, nor is there a release date, for the voicebank. sorry! He is expected to have at least a VCV, Gentle & Kire/Power Voicebank. He is also expected to be a multi-pitch UTAU with breaths!
Terms of Use
R-18 Content? Permission is not required, but please remember he is young in age.
Commercial use of Voicebank Allowed? Permission Required (and encouraged!)
Commercial Use of Character Allowed? Depending on the type, no, but if you contact me or credit me, you may.
Do these terms apply to derivative characters/voices? Yes, but derivatives must be created with permission.
Trivia
Sosuke's voice was provided by an 18 year old girl.
Gallery
Information in this page is provided by the author. The page is subject to change without prior notice.