SOUKA


(Japanese: そうか)

NAME INTERPRETATION:
(May also be referred to as Sokanon Terrot)

そうか (Souka) - A Japanese grammatical suffix generally used to mean "is that how it seems?". When written in romaji, it is also an abbreviated, alternative spelling of "Sokanon".

Sokanon - An Algonquin name meaning "rain".

Terrot - No specific meaning.

GENDER
Female
VOICE RANGE
[TBA]
RELATED CHARACTERS
Chatter (stalks)
AGE
18
GENRE
[TBA]
HOMEPAGE
NONE
WEIGHT
138 lbs (62 kg)
CHARACTER ITEM
Camera
CREATOR
Machine
HEIGHT
5'8" (173 cm)
VOICE SOURCE
Montblanc
PICTURE LINK LIST
deviantART
BIRTHDAY
November 15, 1989
LIKES
Chatter, travelling, reading, photography, artistic crafts, surfing the internet
MEDIA LIST
NONE
RELEASE DATE
[TBA]
DISLIKES
Not getting her way, unfinished things, poor Wi-Fi signal
SIGNATURE SONG
[TBA]
PERSONALITY: For the most part, Souka comes across as a sweet and friendly person who tends to sugarcoat her words, often complimenting others on their appearance. Towards particular individuals, she can be somewhat handsy, often touching their faces, shoulders, waists or chests. When angered, or when speaking to individuals that she dislikes, her speech and behaviour becomes cold and malicious, and even threatening. She shows an alarming obsession towards a particular person, to the point where she will go out of her way to find out personal details about him.
Supplemental Information
Hair color: Black
Headgear: [N/A]
Eye color: Grey
Earphones: [N/A]
Dress/Outfit: Souka wears a loose fleece sweatshirt with black, grey and red stripes; dark grey skinny jeans, and black platform shoes.
Others: Eye makeup (black)
Nationality/Race: American/Human
Personal Quotes
"Why won't you pay attention to me!? I know everything about you!"
"You're so attractive, you know...you might just want to be careful~"
Trivia
Souka is of Menominee heritage.
She is a medium, and is able to see apparitions of the dead.
Her favourite hobby is photography, and her career dream is to become a professional photographer.
Voice Configuration
ACT1 [CV] - This bank is currently in the process of being recorded.
Voice Description: [TBA]
Recommended Resampler: [TBA]
Pros - [TBA]
Cons - [TBA]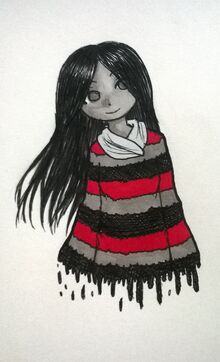 Notable Works
Planned Covers
Happy Child
Mother of Pearl Bones
Pretty Little Dead Things
The Spider and the Lion-like Kitsune
World's End Song
Other Media
Spiralbound
Souka makes an appearance in Spiralbound, a currently in-development abstract horror game which uses RPGMaker VX Ace as its engine, and features Chatter and Elky as its protagonists.
Usage Clause & Guidelines
[As of 7th January 2015]
Please bear in mind that views and/or opinions expressed by this character may not necessarily reflect those of the creator.
Feel free to use her for whatever you'd like, as long as it is not offensive or degrading towards persons of any race, gender, sexual orientation, religion, disability or political standing.
Please do not whitewash her.
Use of this character in R-18/explicit sexual content is permitted.
Other obscene expressions such as excessive gore are also permitted. However, please be sensible about posting it on sites accessible by minors.
If considering using her for profitable/commercial purposes, please consult the creator.
Pair/"ship" her with whoever you'd like. However, if considering using her for roleplay/RP purposes, please consult the creator.
Any fanart, covers or depictions of her do not necessarily have to be linked back to the creator. However, the creator does appreciate being notified, so that they can appreciate your work!
In visual depictions of her, feel free to alter her design as necessary.
Redistribution is acceptable, as long all of the original files - including the bank art, readme and character files - are included.
Please do not claim her as your own.
Please do not release this bank under the name of another UTAU, or alter/edit the files of this voicebank to create a new one.
Feel free to edit the oto.ini if necessary.
If you have any issues with using this bank, or if you have any other questions, please contact the creator!
This article is written and certified true and correct based on verifiable information of the character. The details seen here may be subject to change without prior notice.
Ad blocker interference detected!
Wikia is a free-to-use site that makes money from advertising. We have a modified experience for viewers using ad blockers

Wikia is not accessible if you've made further modifications. Remove the custom ad blocker rule(s) and the page will load as expected.