Sozoryoku Machi is a utau created by Adamarys. She is inspired by Kenshi Yonezu and she is also called Sozoryoku Gakkyoku(Imagination-Music).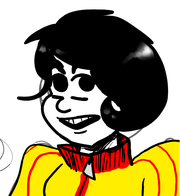 '
meaning of name
her full name is Sozoryoku Gakkyoku.meaning "imagination song" 想像楽曲. Her nickname is Machi, or 街. 
age

teen years (around 17 years)

birthday
march 31  (biologically) in Osaka, Japan.
weight
120-130 pounds
height
around 5 feet
character item
Matryoshka doll or a butterfly
likes
Kenshi Yonezu(HACHI), matryoshkas, art, music, guitar, mangas, Hatsune Miku, doing livestreams
dislikes
sports, her headphones falling off, confusions, the dumb things that people do, sympathy, hipocrites.
related characters

Adamarys (creator,sozo ryoku in the reality world)

Sozo's a friend/foe to any utauloids,pitchloids,and vocaloids

Kenshi Yonezu (favorite singer and the inspirer of Machi)

gender
Female but can be represented as any other gender. 

personality
Machi lives in Osaka, Japan but started traveling. She is interested in music until she got involved in music as she got older. She does livestreams for singing and enjoys listening to Kenshi Yonezu. Kenshi was a big influence to her personality. She enjoys daydreaming and drawing. She can speak in english perfectly and was planning to have an english voicebank in the future. Machi is usually lazy but she would get up early like 5:00 AM and would walk around downtown. She wish to be more open to the world and be less isolated. 
Her purpose at first was to make fun of her flaws and her past according to her creator's YouTube channel.  
Appearance
Machi is seen wearing black gloves, black combat or rain boots, yellow jacket with red streaks, dark green or cargo pants. She has white or peachy skin tone, black hair, and a mole on the right cheek. 
How to use
Sozoryoku can sing any song you want. Even though she has a personality, is optional for you to see her a different way. She can be paired with any utau, vocaloid, or anyone else.
Voicebanks are here(V.1)
Sozoryoku Gakyoku V.2 link here
The package will include her voicebanks in hiragana and romaji form so it can be compatible to more USTs.
Ad blocker interference detected!
Wikia is a free-to-use site that makes money from advertising. We have a modified experience for viewers using ad blockers

Wikia is not accessible if you've made further modifications. Remove the custom ad blocker rule(s) and the page will load as expected.