Ad blocker interference detected!
Wikia is a free-to-use site that makes money from advertising. We have a modified experience for viewers using ad blockers

Wikia is not accessible if you've made further modifications. Remove the custom ad blocker rule(s) and the page will load as expected.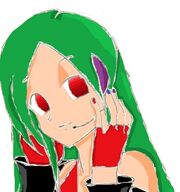 Spina Aozora es una utau creada por Nuria González Bermejo. Aquí tenéis su ficha y los links de descargar de su primer álbum, además de su primer vídeo.
Nombre: Spina
Apellidos: Aozora
Tipo: Utau
Sexo: Femenino
Grupo al que pertenece: Taranay
Descripción física: Tiene el pelo verde, los ojos degradado rojo y suele vestir con un largo vestido rojo y unas botas rojo oscuro. Sólo tiene un casco de color morado en el lado izquierdo.
Descripción psicológica: Spina es alegre, tímida y activa a la vez. Su personalidad es múltiple, lo mismo pasa de llorar a reír en un segundo, de reír a ponerse triste en menos, etc. Muchos creen que es bipolar, aunque su personalidad más común es la alegre. Sólo kiruki conoce todos sus secretos.
Historia: Ella no suele contar mucho de su pasado. La inmensa mayoría de gente sólo sabe que su carácter viene debido a que se quedó huérfana y desde pequeña tuvo que afrontar la realidad desde pequeña y que tuvo muchos problemas con sus compañeros. Se ha metido a la música porque opina que la música abre lo que siente a la gente y ayuda a ser comprendida.
Frase usual: Sólo el que realmente ha sufrido puede entender a quien realmente sufre
(A todo esto, la canción no es stand my ground X3 me equivoqué y algún dia lo cambiaré).
Akahitoha: 4shared.com 4shared.com/music/vS5kuAo4/Akahitoha.html
Caramelldansen: 4shared.com 4shared.com/music/GUyx9yrI/Caramelldansen.html
Electric Angel: 4shared.com 4shared.com/music/X-HINn0S/Electric_angel.html
Far Away: 4shared.com 4shared.com/music/APYooqVw/Far_away.html
Gosenfu: 4shared.com 4shared.com/mp3/Z7akw_Ti/Gosenfu.html
Levan Polkka: 4shared.com 4shared.com/music/503OVG1E/Levan_Polkka.html
Melt: 4shared.com 4shared.com/music/23dvQKGD/Melt.html
Romeo & Cinderella: 4shared.com 4shared.com/music/rPS5kPPL/Romeo__Cinderella.html
Tell your world: 4shared.com 4shared.com/mp3/Z7akw_Ti/Gosenfu.html
Falta la de Lost Story, pero yaa la subiré :3