| | | |
| --- | --- | --- |
| | | (Japanese: 澄子 和恵 - Sumiko Kazue) |

NAME INTERPRETATION:

Kazue: 和恵 (和 (kazu) "harmony" and 恵 (e) "blessing, favour".)

Sumiko: 澄子 (澄 (sumi) "clear" and 子 (ko) "child".)

Can also be written as すみこ かずえ

TYPE: Harmoloid (UTAUloid)

MODEL: No model

GENDER
Female
VOICE RANGE
Unknown
RELATED CHARACTERS
AGE
19
GENRE
Unknown
HOMEPAGE
None
WEIGHT
112 lbs (50.8 kg)
CHARACTER ITEM
Book, clarinet
CREATOR
Hono-Harmony
HEIGHT
5'6ft
VOICE SOURCE
Hikari (Hono-Harmony)
PICTURE LINK LIST
TumblrDeviantArt
BIRTHDAY
Mar/23/2014 (by design date)
LIKES
Clarinet, books (any kind), quiet places, Mango Bubble Tea
MEDIA LIST
RELEASE DATE
July/06/2015
DISLIKES
Being disturbed, anything that's too loud
SIGNATURE SONG
None
PERSONALITY: Kazue is quiet but clever. She spends most of her time in libraries and taking care of the Masami twins. She is kuudere/dandere. She loves her clarinet to pieces and if it is held for ransom for some reason, she will get it back… somehow. She feels that since Honoka is like the Hatsune Miku of the house, she should be treated with high respect (sometimes the "respect" gets a little too far and she goes crazy for her). If Kazue is angered, who knows what will happen. She is also a computer wiz.
Supplemental Information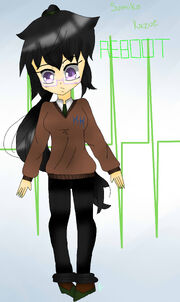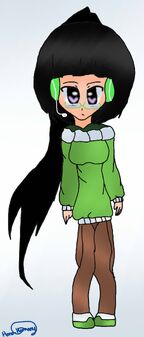 Hair Color: Black
Eye Color: Lavender
Earphones: Green headphones (hidden behind her hair in ACT2 design)
Clothes: Black, green, white and brown
Nationality/Race: Canadian-Japanese
Voice Configuration
Kazue's voicebank was encoded in Romaji and have Hiragana aliases.
ACT 1 CV: Download Monopitch Japanese CV voicebank
ACT 2 CV-VV: Download Monopitch Japanese CV-VV voicebank
(VB can only be used on Youtube, SoundCloud, and Nico Nico Douga)
Usage Clause
This voicebank is free, not for sale
Not for commercial use
Do not edit her voice files and claim as yours
Fan made music and artwork are completely acceptable
Sumiko Kazue's voice bank and character avatar may not be portrayed in any pornographic situation
May NOT be used for specifically spreading a political or religious message. However, traditional anthems are perfectly acceptable.
This article is certified true and correct by the UTAUs' creator. The details seen here may be subject to change without prior notice.