Superdude is my Mascot OC for the Acemaster name and is like the son I may have in the future. He has been in alot of Stories, Music covers (UTAU), etc.
This Page is for the UTAU Voicebank....known as Your Scarlet Haired Mexican Teen Heart-Throb in the UTAU community.
Supplemental Info
Name
Superdude
Voice provider:
Rafael Tristan (Acemaster)
Good Duet Partners:
Age
21 (Voice Provider:18)
Author:
Acemaster

Personality

Caring
Happy-Go-Lucky
Romantic
Single

Gender:
Male
Character item
Guitar Pick
voice range:

E#3-C4 (V-Series)
F#2-A3 (V2-Series)

Likes

Dark Chocolate
Monster (Energy Drink)
Mexico
Metal (Genre)
Dubstep (Genre)
Romantic things

starter song :

04:09

Love Is War Superdude cover

Dislikes
website:
http://acemaster10067.wix.com/acemaster
V-Series (Generation 1: FL-O1)
Superdude's starter bank.....It sounds terrible without the TIPS resampler CV-VC Japanese 
DL: http://www.mediafire.com/download/tgs6p0objtux7z4/SUPERDUDE.zip 
Append Dark: http://www.mediafire.com/download/h2glxrkj4y39ms4/Superdude+Append+Dark.rar 
V2-Series (Generation 2: FL-01 V2)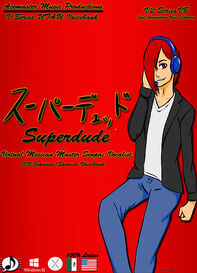 An overall improvement from Gen1 CV-VC Japanese with Spanish capabilites
DL: http://www.mediafire.com/download/xcg8614a88stz6l/Superdude+V2.rar
NextGEN (Coming Soon)
The Next Generation Superdude voicebank is in development a beta version of the voicebank will be recorded and release soon.
Appearence
Height: 7'0'' (pretty tall)&#x2630
Weight: 160 lbs.
Hair color: Scarlet
headset: Yamaha Pro 500(Acemaster-P does not sponsor nor is  a part of Yamaha)
Headset color:Blue (the only color availible at the time other than black')
Related Characters
All of Acemaster's UTAUloids are a part of one big pseudo-story and have some sort of relationship with each other.
Ace Masters: Superdude sees Ace as a real laid back guy with nothing to worry about. Superdue envys him.Fellow Acemaster-P UTAUloid
Brandy: Morns over her loss, Fellow Acemaster-P UTAUloid
Jorge Cruz: Secretly escapes from time to time for a private Jam Session (Shh... Don't tell Willhelm), Fellow Acemaster-P UTAUloid
Isabella Cruz: Close Friend, Fellow Acemaster-P UTAUloid
Pikane: Superdude's brother, fellow Acemaster-P UTAUloid
Willhelm Robertson: Superdude has taken him under his wing as his Sensei on being a true Ladies' Man, Fellow Acemaster-P UTAUloid
Kasane Teto: Had to appologize for Willhelm's actions and Teto politely shared her French Bread with Willhelm.
Lelias Meleven: Had to steer Willhelm away from her and told Willhelm to show some respect for her due to the fact that Superdude and lelias were good friends and duet partners
USAGE CLAUSE
(Based off of Superdude upcoming V3 voicebank)
Voicebank:
1.Don't Redistribute any part of this Acemaster V-series UTAUloid in anyway shape or form without permission.
2. DO NOT ALTER HIS AWESOMLY MASCULINE VOICE OF A LATINO LADIES MAN!!!!
3. OTO fixes are allowed as long as it improves voice quality (Send me the edited OTO to me Please)
4.No real song restrictions-If it is R-18 in nature please for the sake of all things good in the world make it decent.
5.If any hentai is made with Superdude.....again make it decent and not straight up morbid.
6.All material deemed indecent shall be asked to be removed by Acemaster
7.Any unapproved voice alterations (Recording over, Pitching over, Using him in Vocaloid (If found you will be forced to tell me how you did that...because I want to do that in the future.)), and claiming it as your own and made public will be asked to be taken down.
Official Art:
The Superdude official artwork (2015) was drawn by Soba (a friend of a friend that i know) and was asked by me to use as his official artwork. She did a very good job of drawing this picture and I ask that you do not use this picture at all please. If you are doing a project that requires a .png of him, then I will supply it for you. If I see that you have used without asking me.....you will be asked to take it down.
Authenticity of This Page
This page has been created by Acemaster (https://www.youtube.com/user/ace10063/) and shall not be edited without prior approval from Acemaster.
Ad blocker interference detected!
Wikia is a free-to-use site that makes money from advertising. We have a modified experience for viewers using ad blockers

Wikia is not accessible if you've made further modifications. Remove the custom ad blocker rule(s) and the page will load as expected.